Why Antiques will change your life
Grace & Holmes' First Classic Car Rally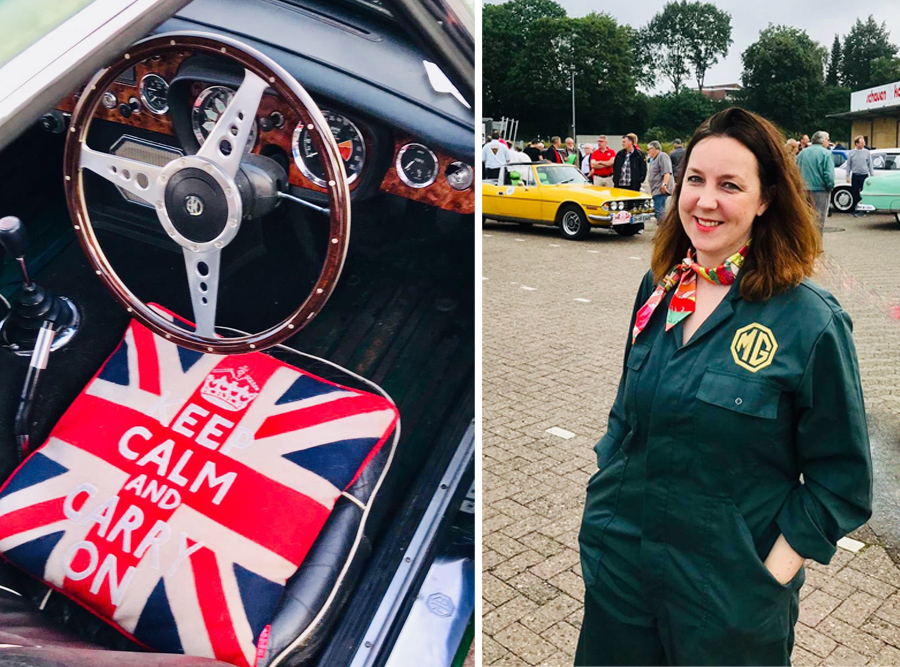 All Raring to go and trying to keep calm!
I love antiques
If you are anything like me, then your love of antiques go beyond the interior design in your home sweet home. It will include your fashion style, the books and magazines you read and even the car you drive. You feel the need to be surrounded by antiques and vintage as much as possible.

Take my car for instance. I knew I never wanted a modern car. My dream was always a classic car. And countless visits with my Dad to classic car shows certainly made their impression on me. An E-Type to be exact, that was my dream car or at least a Jaguar. That was before I found out exactly how much those beautiful cars cost to run. Then I set my sights a little lower and brought a little rationality into the picture. I knew I wanted an English beauty in British Racing Green. So to cut a long story short, I found my MGB GT from 1967 and gave her a name. Maggie. 8 years on I decided that this was the year I would take part in my first classic car rally.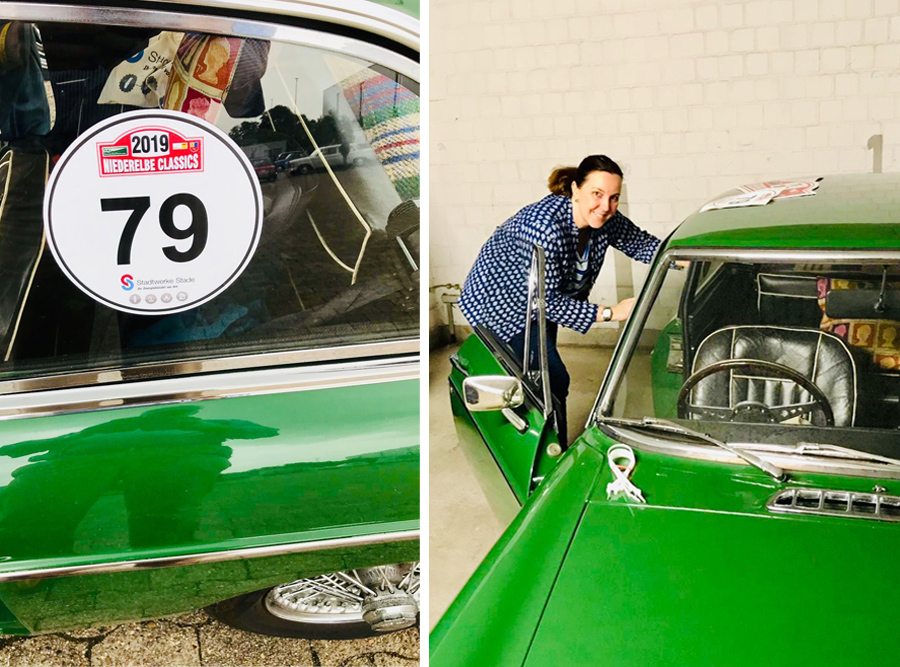 Preparing Maggie with her Number 79

What is a rally exactly?
To be perfectly honest I wasn't really sure what a rally actually entailed. I had visions of it being either a hardcore race or a gentle drive along glorious country roads. But I thought, why not? Maggie needs a challenge and wants to stretch-out her tyres a bit. So I applied. As soon I got the details back my heart sunk. There was something about tasks to do and Chinese signs to read and even a workshop to go to. I panicked and picked up the phone. The organiser had a good chuckle I reckon as he realised that I had first-timer nerves and reassured me. At the very least we would have a lot of fun and get to see the wonderful countryside and local areas we would have never otherwise discovered. I wasn't really reassured but thought about how Maggie was looking forward to it.


Friday was the night of the workshop. My partner and I rushed on over, late as usual and picked up our paperwork and numbers for the car. The tension mounted as I looked around at the packed crowd. Admittedly mostly men and seemingly experienced. I was slightly relieved as numerous hands shot up after being asked how many of us were newbies. I asked my partner if he understood what any of it all meant and he just looked at me with a blank stare. I guessed we were in for a real treat the next day. We prepared Maggie with her number 79 and gave her a good wash so that she almost gleamed with pride. We wolfed down some dinner and managed to get in a few hours of restless sleep.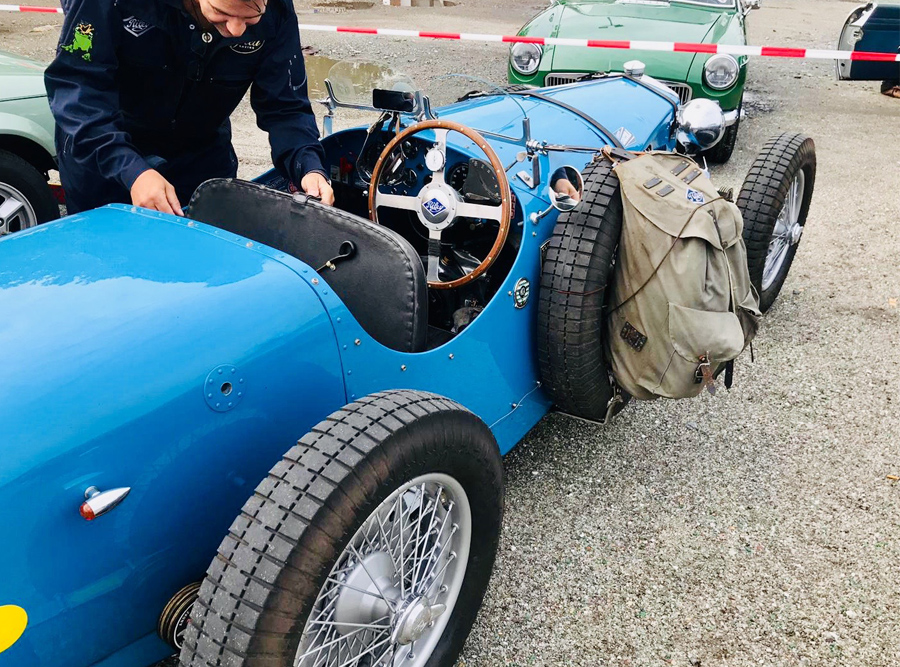 Maggie looking on as the drivers get their cars ready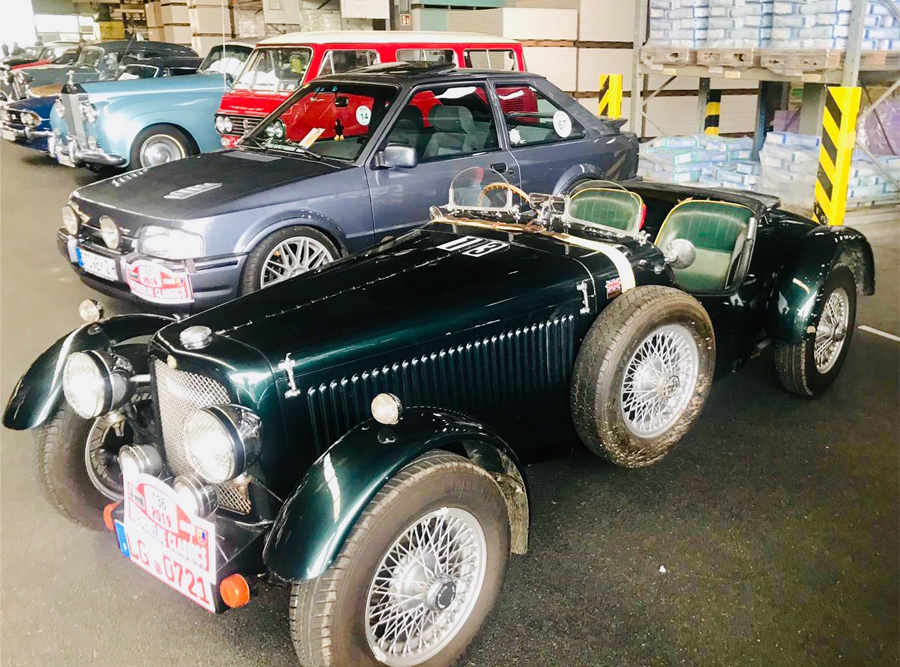 Spoilt for choice
Good morning
The next morning at 7 am I sprung up in the knowledge that I had no clue what to wear. Finally, it was toss-up between a 60s style pink dress with a pillbox hat and stilettos or my dark green MG overall. I decided to go with the overall. Had I been in England I would have chosen the dress, but being in Germany, dressing up is sadly not really done plus I was not quite awake for proper styling, I went with choice overall but I dressed it up with a colourful Hermes silk necktie and vintage red lipstick. My partner went for the gentleman-look with a pink bow-tie and a flat cap. He looked very dandy, I have to say.

We drove on over and got ready for our start. We missed the opening speeches but tucked into a yummy breakfast and lots of coffee. Our Board book, which could be described as your instruction Bible was handed out 15 minutes before our Start Time of 10:19 am. So, not giving you a whole lot of time to work with before the OFF. In the meantime we watched the other cars driving out, which ranged from a 1930s Bentley with over 200PS to a 90s Golf GTI, due to their Mercedes vintage roadster breaking down that morning, to a wide selection of British, German and American classics. I felt my heart race.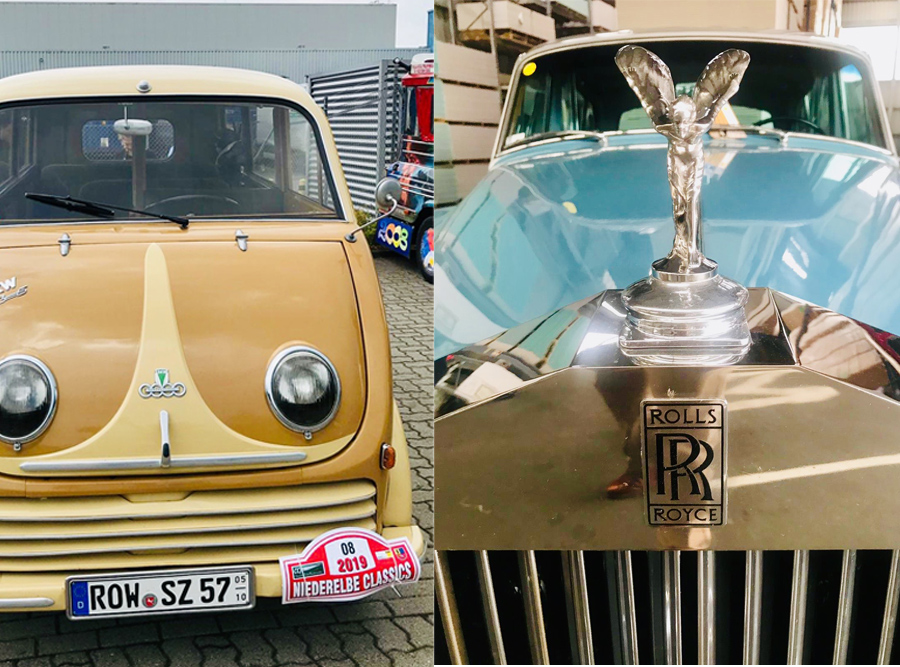 Which nose wins? Sweet and Sexy - DKW meets Rolls Royce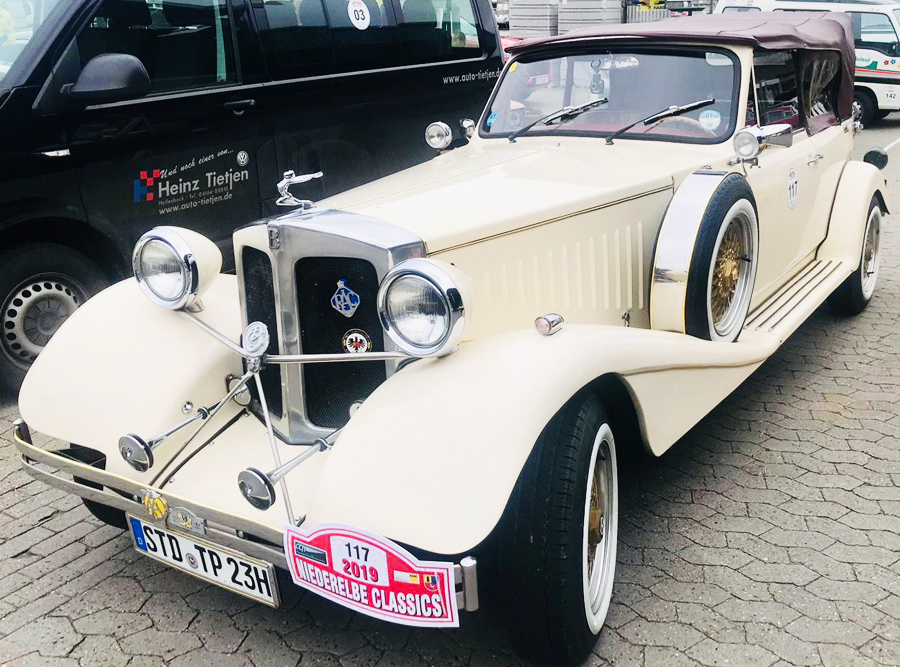 Beaufort in Great Gatsby Style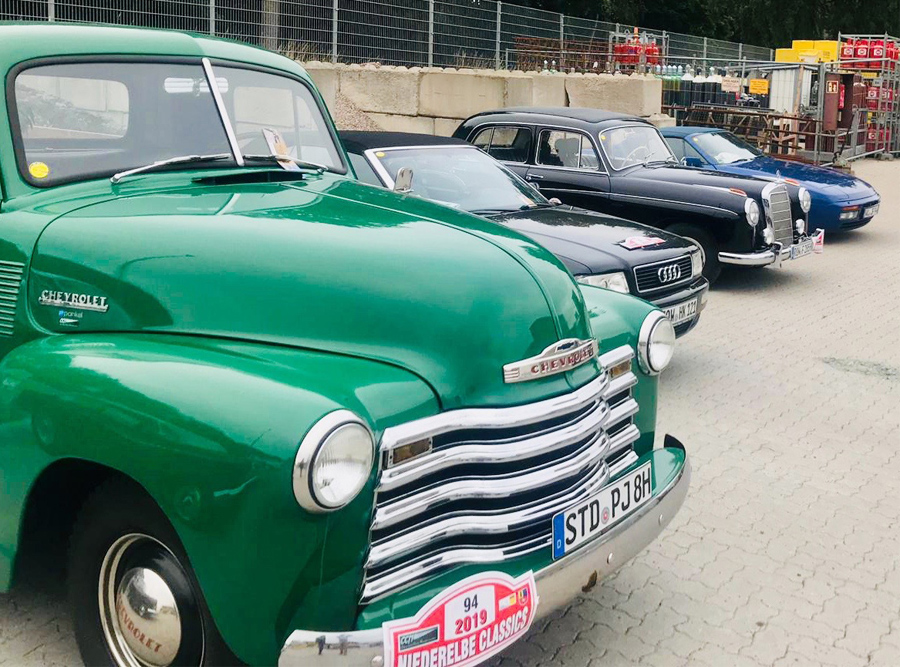 Our friend the green Chevrolet Nr. 94
Talking Chinese
We talked to fellow drivers and they gave us some tips about filling out the Board card details which gave you a basic time and kilometre frame and included empty boxes that needed to be filled out with numbers or stamped at every stretch. There was even a mention of getting prizes on the way. Board card 1 was for the first stretch and Board Card 2 for the second. You basically have a set amount of time to get to certain points and NOT faster. Otherwise, you were penalised. In order to get from points A-E you have to decipher the 'Chinese' symbols in the Board book giving you instructions to turn left, right, straight etc and the distances needed (which you could calculate on a stopwatch). On the route, there would be numbers on the side of the road which you had to note down on your Board Cards and once you reached certain points, which were clearly marked and manned, you had your boxes stamped and your time noted. Phew, there was ALOT to take in!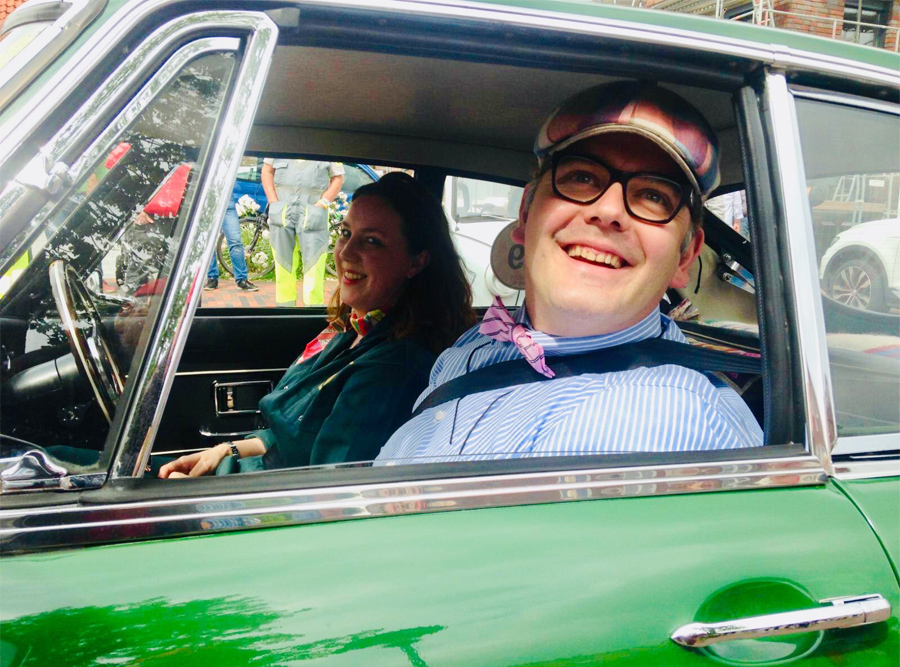 Feeling nervous yet?
Then it was coming up to our turn. We grabbed our Board book and rushed to the car. My partner calculated our ETA at point E and we headed off.10:19 here we come. The feeling was immense as we were sent on our way surrounded by crowds of fans and drivers. The first bit was easy, we simply followed the other cars and we reached a glorious mansion and had our photograph taken. The next hour was also a breeze but then before we knew it trouble started to brew. We started to notice two things. First, the symbols were starting to get very cryptic and so we didn't know where on earth we were. Luckily we weren't the only ones. And Maggie didn't like the constant stops and starts and her clutch was playing up. At one point we were literally stuck. We had ended up in a hedge and I couldn't reverse due to the clutch problem. I had no idea what to do because Maggie had never given me any trouble before. I guess she was fed up. Then luckily, a very friendly Mercedes SLK driver came out of nowhere, as lost as we were, and gave me a much-needed tip. Due to air bubbles in the clutch cable (which was new), she needed more intervals of pressure on the clutch pedal. I tried it and it worked. Eureka! Such a simple trick and no more worry, that we had to pull out. Along the route, we were surprised to find a multitude of points where we were given fruit, sandwiches, drinks and local delicacies every time we were stamped. This spurred us on, even more, as I envisioned Maggie full to the brim with goodies-galore. So on we drove and after many false bends and turns, we finally reached our last destination on the first leg JUST in the nick of time and famished. In the traditional German style, we had sausages and potato salad for lunch and then we didn't waste much time getting ready for the next stage of the rally.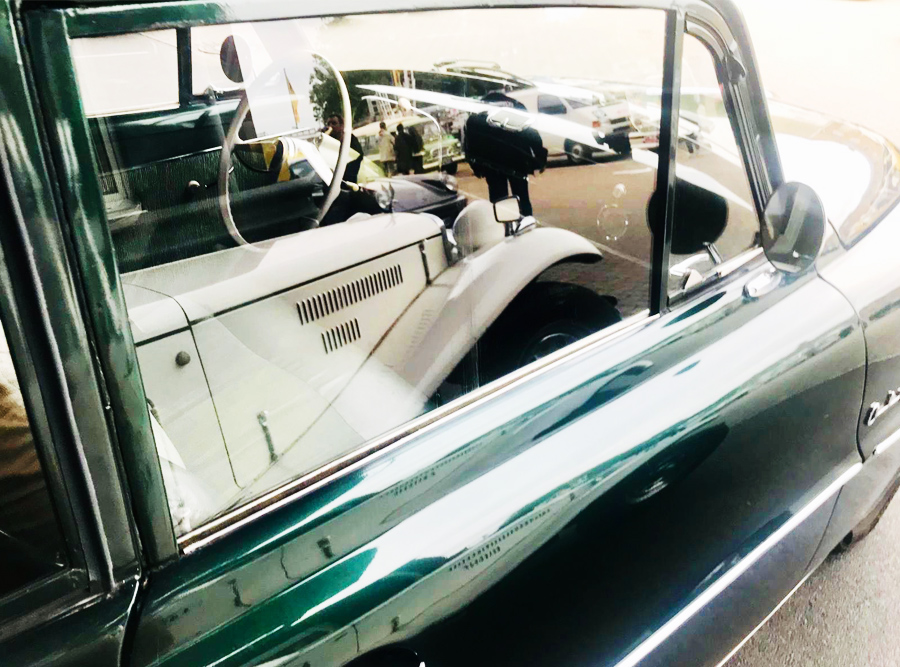 Reflections of beauty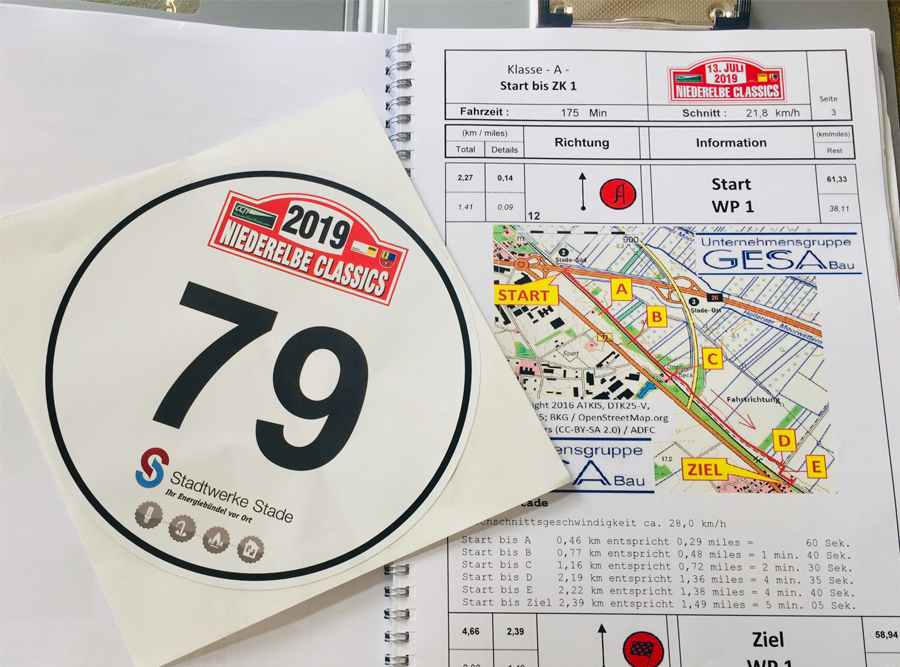 Chinese signs? What Chinese signs?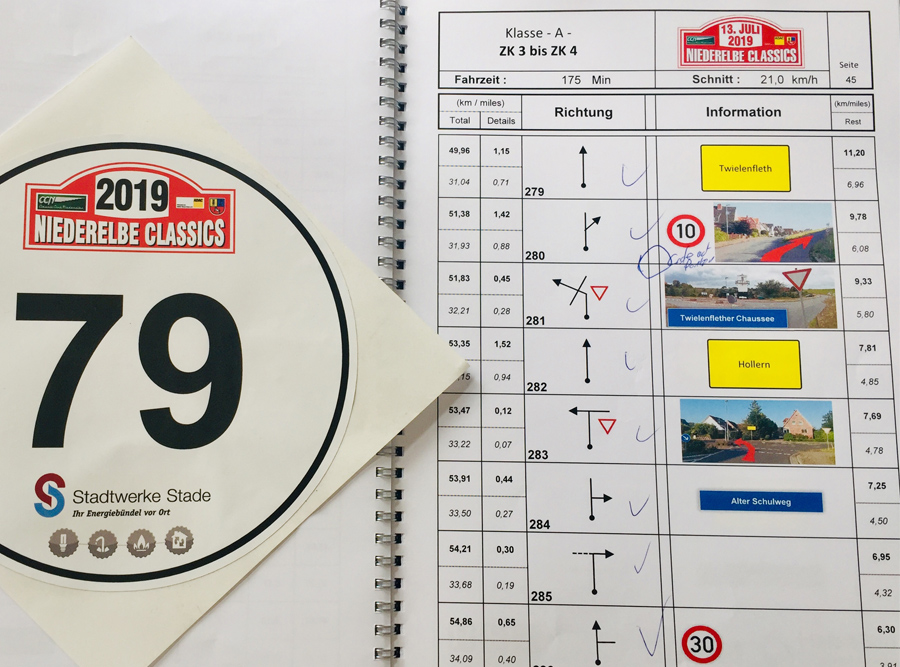 Oh THOSE Chinese signs. Where are we by the way?
The Chicken Boys



Off we went on the second leg. The rain came down but then disappeared as soon as it had arrived. thank goodness I thought, as my wipers aren't really the best. Then after another spot of bother and puzzled looks as to where we were, we were saved by two drivers whom I like to refer to as the Chicken Boys. Pulling up in a 1958 green Chevrolet Pickup and dressed as Hillbilly country-bumpkins, complete with two chickens in the back. They breezed in front of us, casually smoking and creating an air of absolute calm amongst the chaos. We liked the look of them and followed them a good few kilometres until they had to stop to freshen up. We drove up to the Elbe and got a roaring reception at the docks. As we made it through the crowds we were greeted with a warm welcome, as always, and I told the story of how Maggie travelled from England to Germany via the Mayor of Eutin and into my life in 2011. I am always proud to tell that story. And on we drove, through sunshine and rain, through farmyards, past cottages, along the river and through tiny hidden passages and finally into the old part of Stade through narrow streets towards the Fish Market. We were near our final goal at the end of the second stretch and I was quite exhausted by then, I must admit. We speeded on (we were running very late) to make sure we got there within our time and a happy ending.


Following the Chicken Boys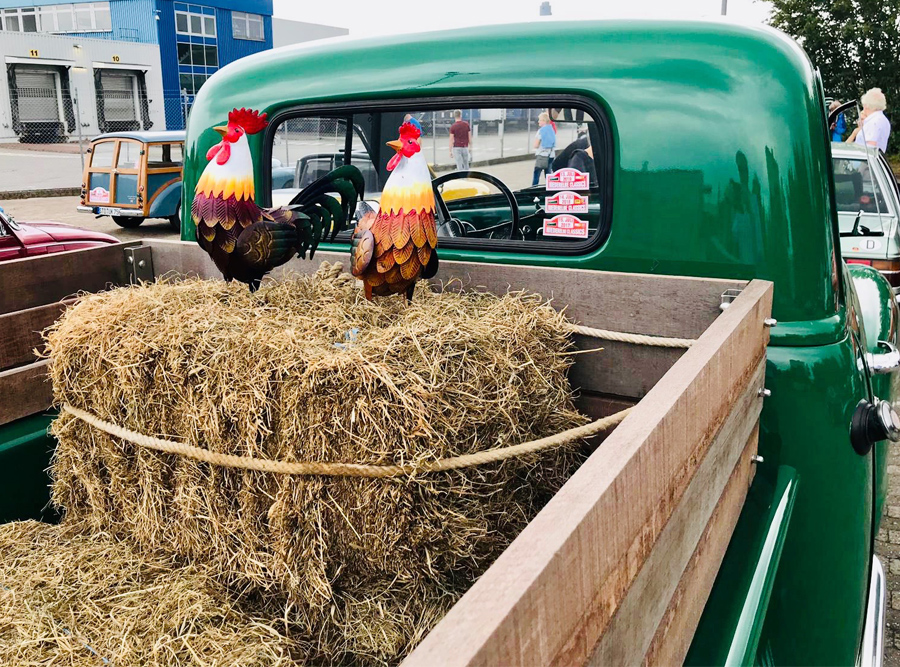 And their rather cool chickens
As we arrived, we were presented with two glasses of local cider and we gave in our Board card in the hope that we hadn't come last. I was in a daze and slowly drove around to the front to park. After nearly eight hours at the wheel, I couldn't really feel my legs any more and I had pains in muscles I didn't even know I had. My partner and co-driver was also relived and ecstatic at the same time. We looked at each other and just beamed. Finally, after a few minutes, we could finally take in the other classic cars in their full glory and talk to the other enthusiastic drivers. We had a sumptuous dinner, good music and watched the trophies being presented. I was astounded at the age range and variety of people, cars and cultures. All with the same passion for antique, vintage and classic cars and sharing that love.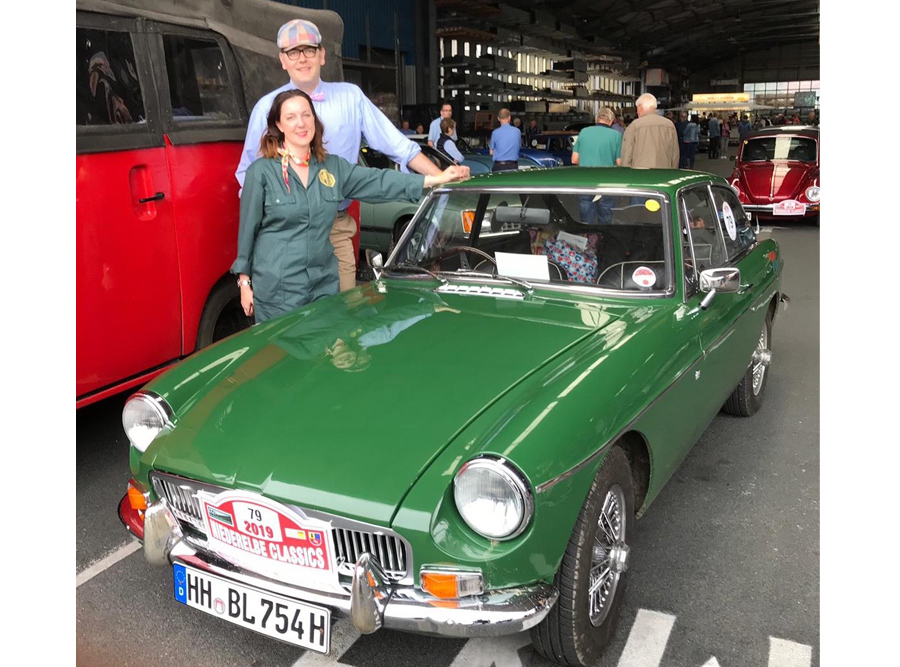 Exhausted but Happy. At the finish line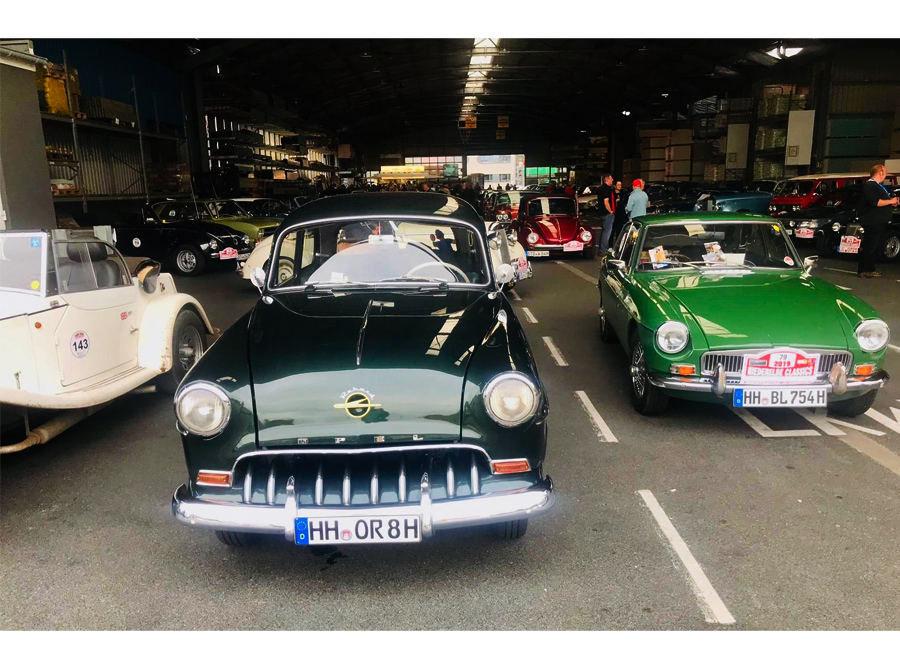 Maggie having a well earned rest



Finish Line at Last
Unfortunately, we didn't get a trophy and to be honest I didn't expect one but we were tired and happy. It was a day of celebration. A celebration of driving skills, fun, passion and people coming together to celebrate some very special antique cars and everything they stand for. A world that was and can be a little slower than it is today and a style and character that is often missing and what many people yearn for. I loved all the characters throughout the day. Be it the cars or the people. We all shared a passion and it was smiles and laughter all around. And everywhere we went there were enthusiastic fans and well-wishers who waved, took pictures, helped us with directions, gave us gifts and made the day what it really was. A celebration of people. Will and can antiques change your life? They most certainly can and for the better.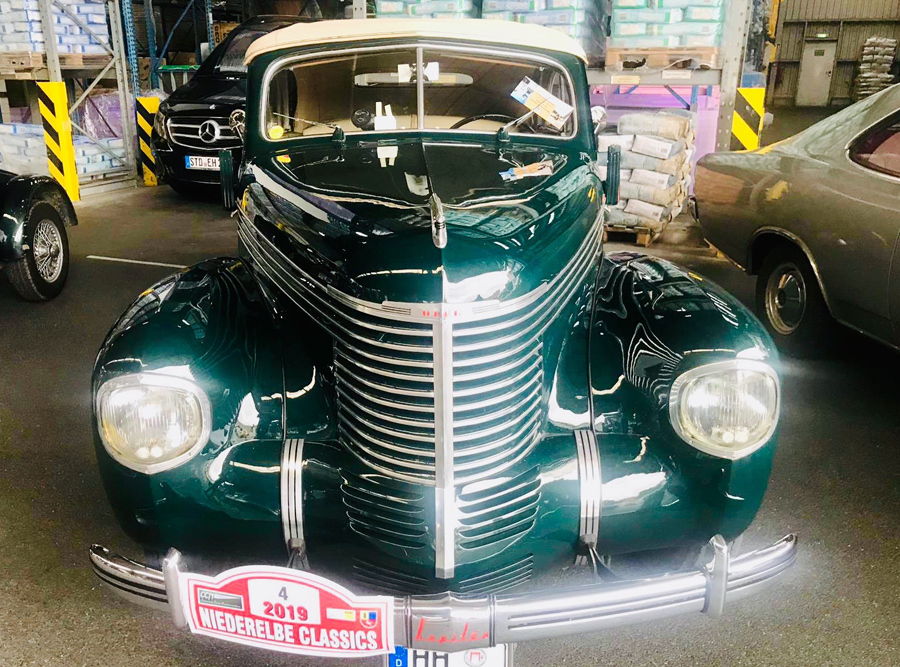 Opel dreams from the front and the side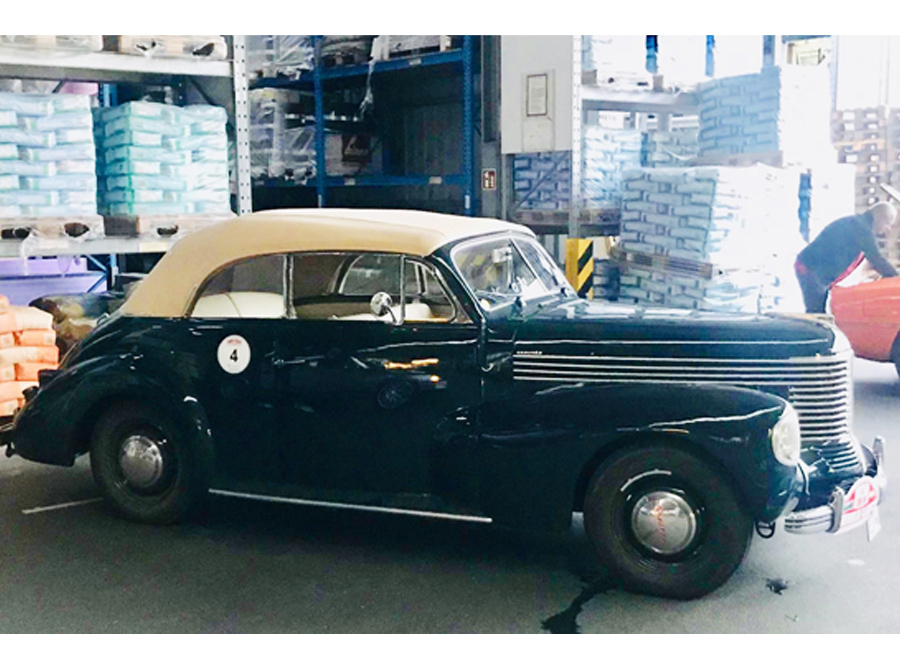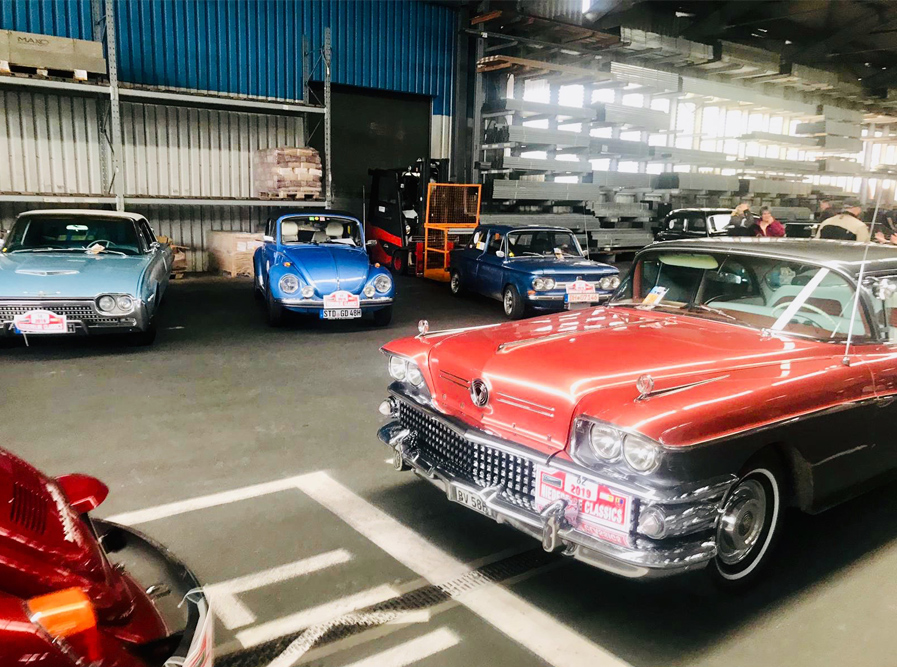 At the finish lin and the classic cars in all their glory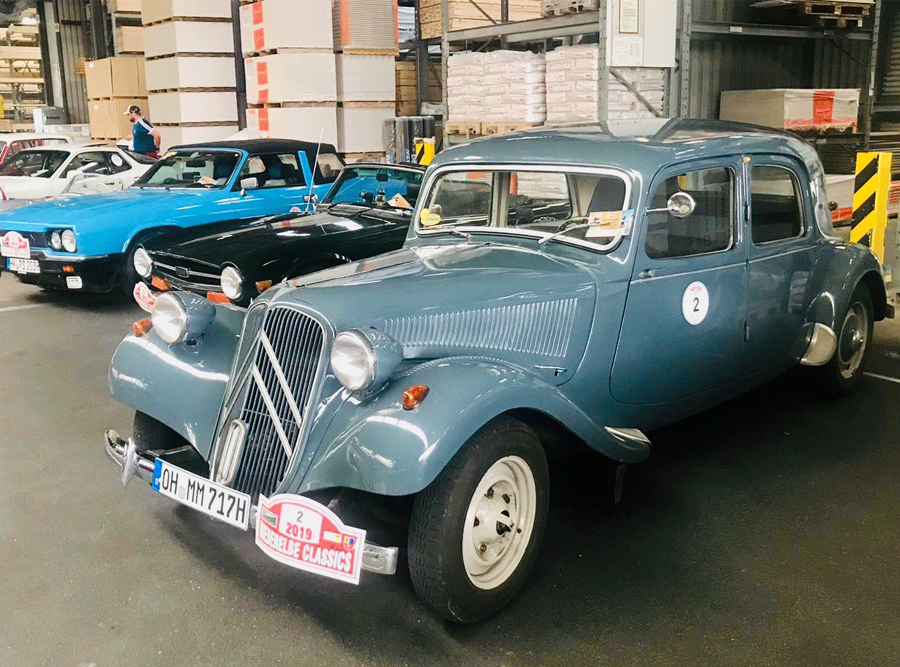 Classic French gangster car the Citroen
Why Antiques will change your life was first published by Grace & Holmes
Photos: Christoph Kopowski