What Paris can teach you about Design
Grace & Holmes went on a whirlwind trip to Paris Design Week back in January and I just have to say, wow!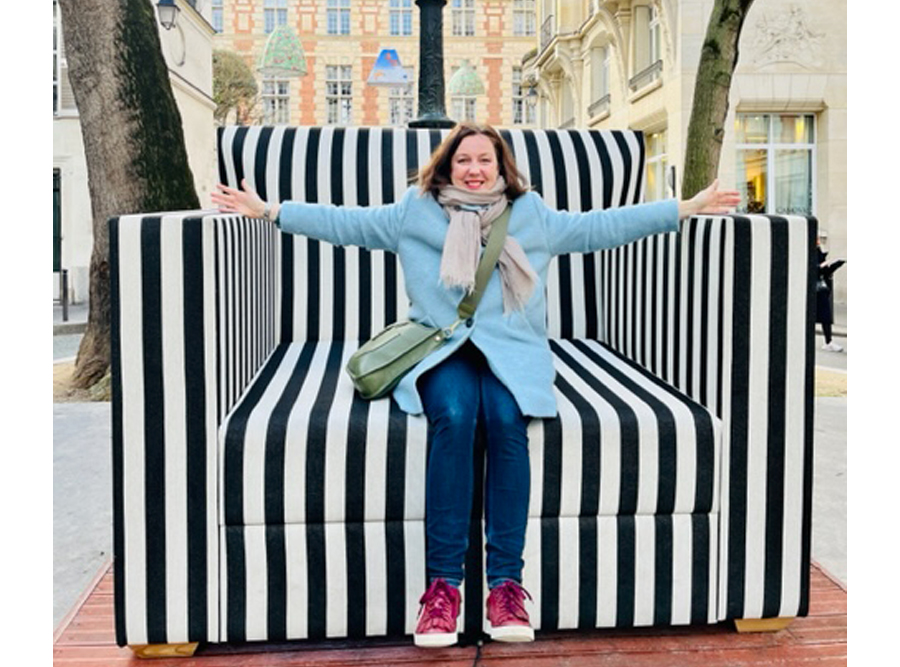 It has been a while since I had the privilege, and both the Paris Decor Off and Maison Objets 2023 created a city full of events, shows, exhibitions, talks and open showrooms with sumptuous fabrics, rare antique furniture, handmade wallpaper and glorious colours.

Oversized lampions decorated the streets, textured curtains hung outside brasseries and brands, designers, stylists, architects and decorators showroom hopped from one beautiful space to the other.

We enjoyed a wonderful weekend of inspiration and were emerged in a world of old and new, antiques meet contemporary and the daring with the debonair. Paris is the perfect teacher of style and design-fusion and here is a rundown of the top 13 tips of how Paris and the Parisians do it best.



1. The Parisans don't ask questions, they just do. Pattern with patterns, YES! Red with pink, YES! Minimalistic, NO! Rules, definately NOT!

Tip: Don't think too much about so-called interior rules and reguöations. Go with your gut (and heart).
If you love it, DO IT!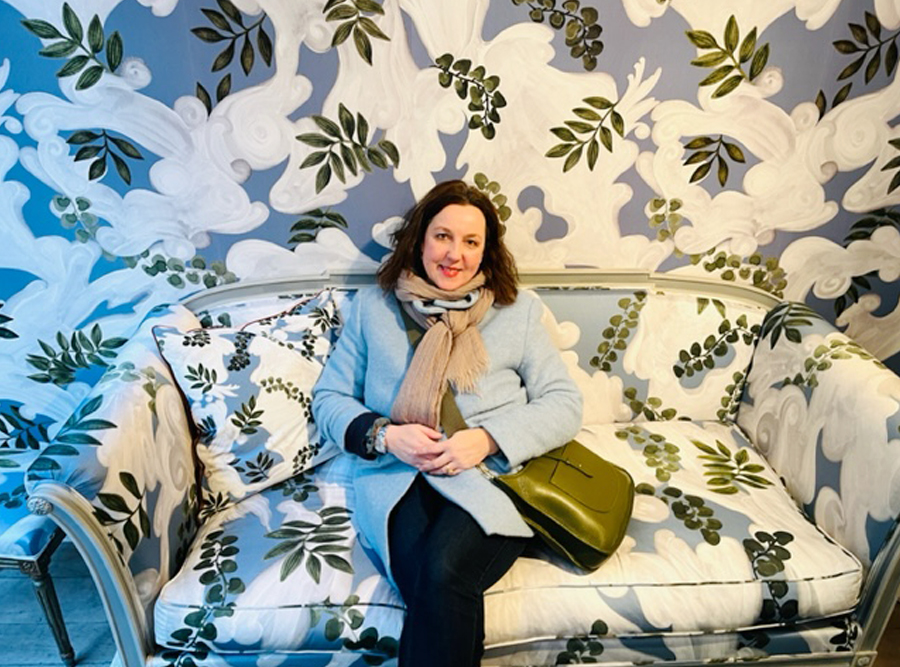 Green is to be seen (plus matching bag!) at Pierre Frey
2. Go Big or Go Home. Je'taime Maximalism, et toi?
Tip: If you want to make a big impression, then more is definately more. Play around with scale in your room from the furniture to the textiles and accessories. Decorate around a 'hero' (main) piece. Don't have one? Then choosing the largest object often works. Be it a rug, sofa, bed, wallpaper or a jaw-dropping chandalier.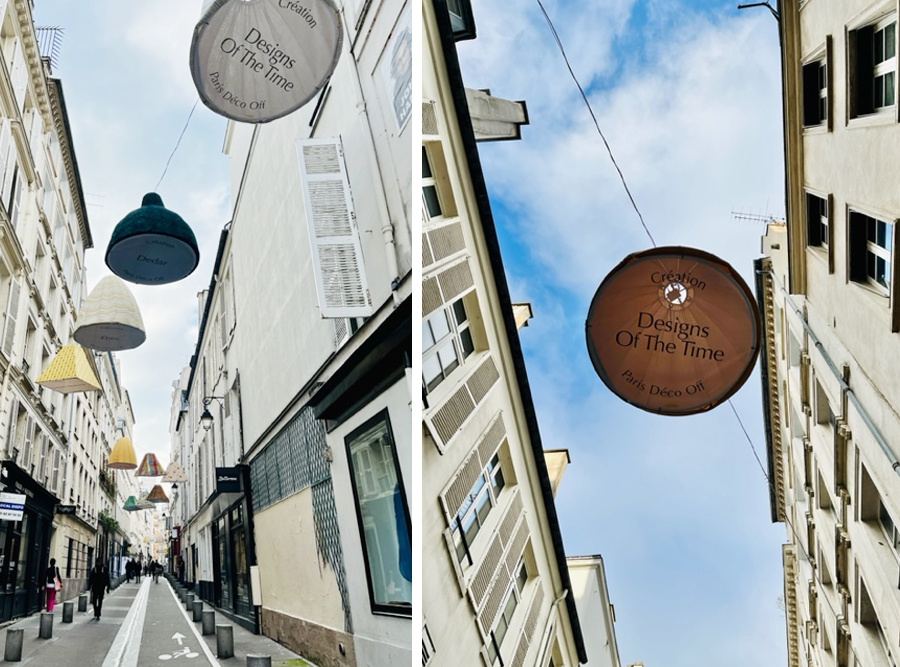 Giant lampions hung between the houses created a magical atmosphere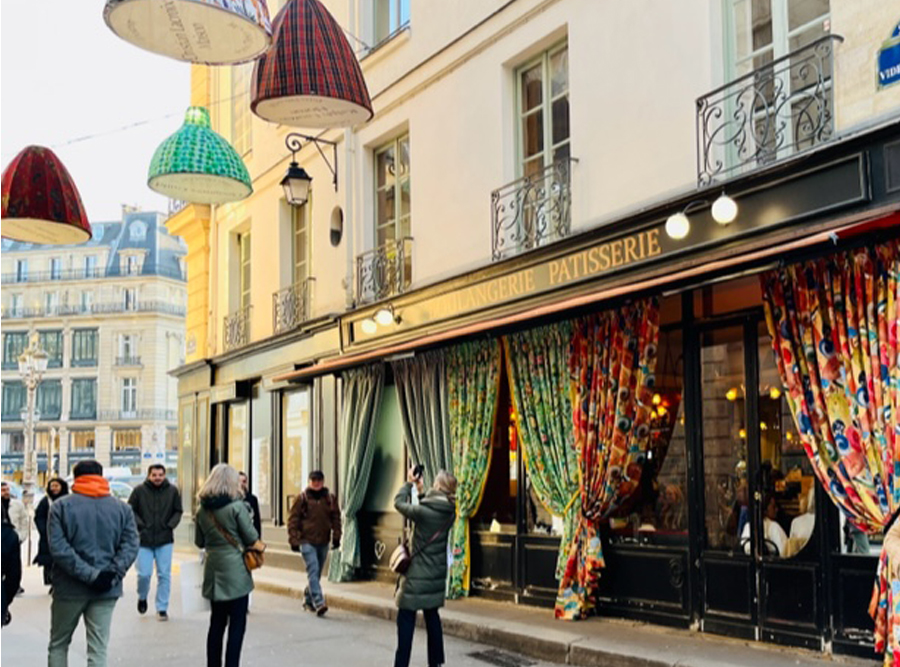 Who says curtains need to be inside?


3. Get Papering! The Parisans are not scared to wallpaper, and wallpaper they do! Pattern mixes, rich colours and extravangant artwork are just the ticket to get rid of those winter blues and don't they just show it!
Tip: If you are not feeling brave enough to paper all your walls then use wallpaper as an accent. Cover the back of your bookshelves, inside cupboard doors, single walls or even ceilings. If you like it, take it to the next level.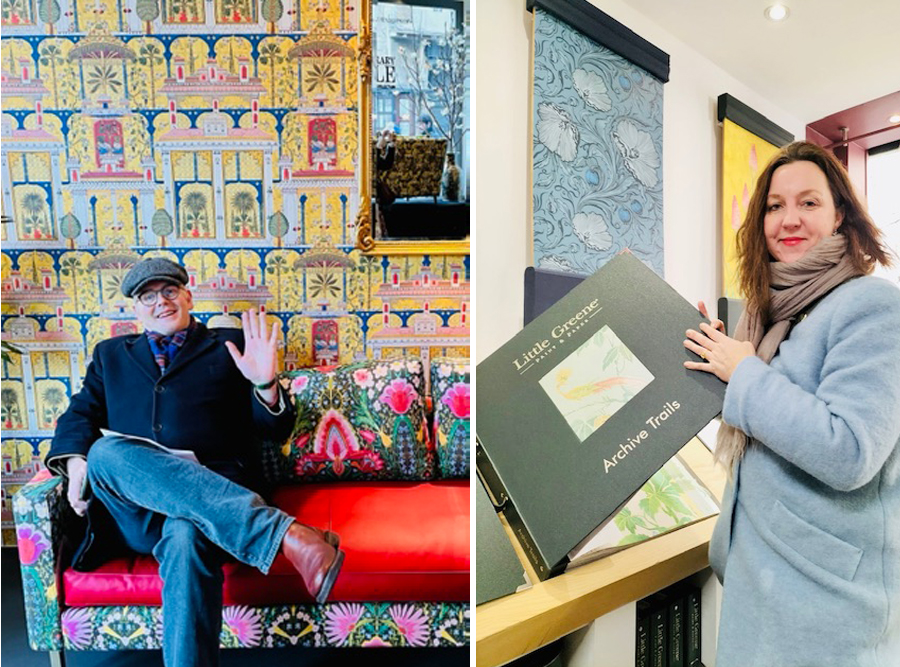 Christoph enjoying his psychadelic experience in MInd the Gap and checking out the new Little Greene Collection.
4. Traditional meets contemporary. In Parisan hotels you will find everything from the classic chic to minimalistic simplicity. They are experts in the traditional meets new. Our hotel, Les Rives Notre Dame was next door to the encloaked Notre Dame, which is being restored and planning to be opened in end of 2024. We had a lovely room (the last one of 10) in a beautiful heritage building right next to the Seine. The room had a mix of contemporary (bed, seating and artwork), mid-century (lamps), classic (French wallpaper headboard) and high-tech utilities. Plus an excellent use of storage in a small space. An elegant mix and a delicious petit dejeuner to top it off. Not something you always find in France!
Tip: Don't limit yourself to one style. Style mix creates interest and if you have collections over the years, it is part of you. So show it off and make it a highlight. Brown antique furniture with your modern scandinavian white; mid-century with renaissance? Yes, it goes! Again, play with different sizes, height and colour and pattern and see how it makes you feel. Collect inspiration wherever you go. Still unsure? Drop me line and let's have a chat. We also teach scale in our online course.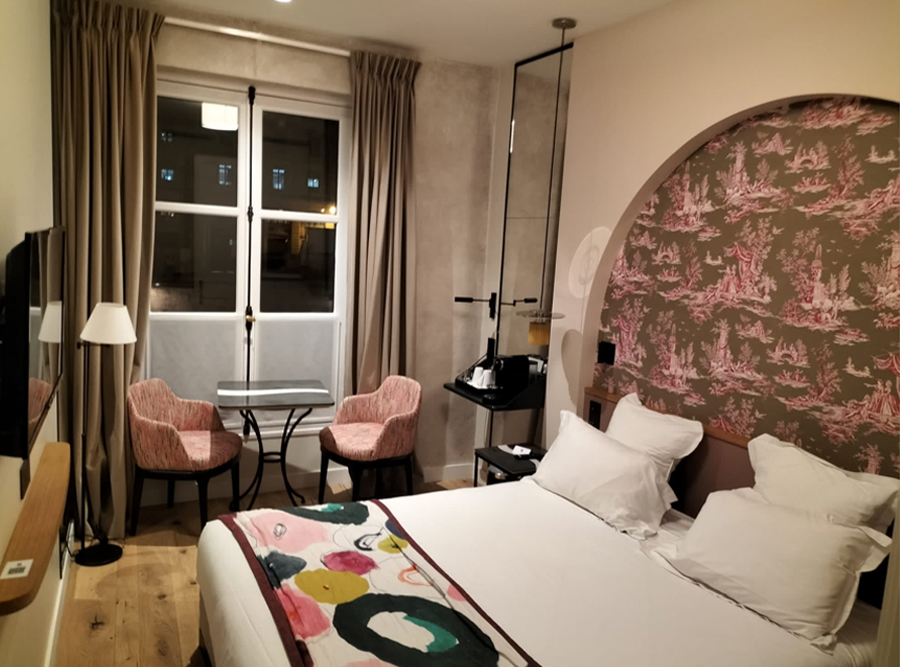 Our hotel at Les Rives Notre Dame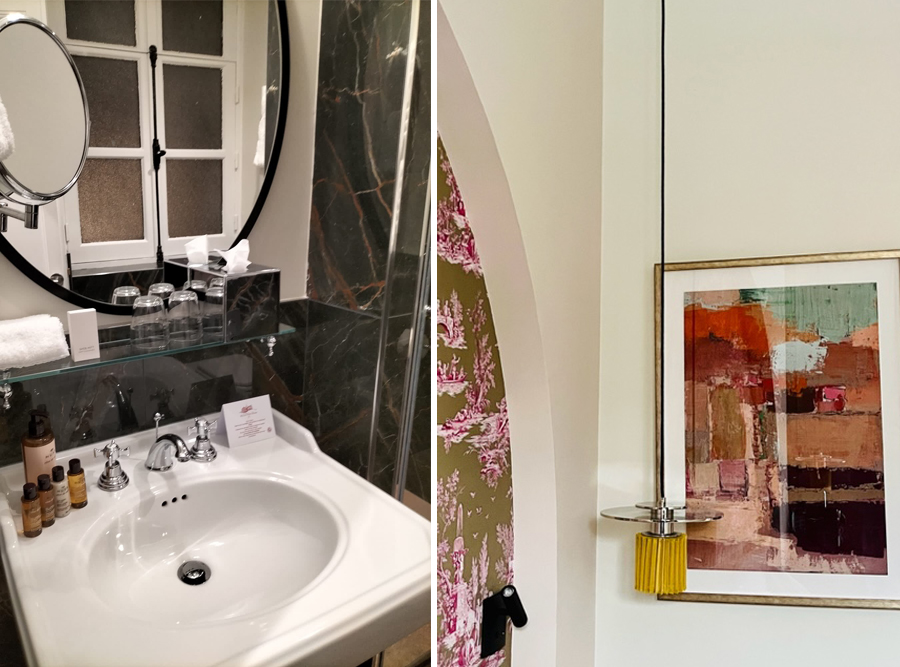 Bathroom luxury with a rainforest shower and modern art meets mid-century lighting
5. Pattern Masters. Florals with geometrics, stripes with spots, botanicals with abstract art. Why not? Again, everywhere you looked, it was colour with colour, patten with pattern and the more you saw it, the more you realised that it worked. Maximalism is in (it was never out), and colour never felt so good. There was a lot of green and oriental shades of sand and orange. But all in all, I didn't (and don't) see trends, I see people, colours in all their glory and away from the beige, finally here to stay. I felt like I was on a medi-orient holiday.

Tip: Don't be afraid of mixing patterns together, you'll be surprised what works. Don't go too large scale in all your patterns but mix with smaller and simpler patterns and colours. Then it won't feel overwhleming.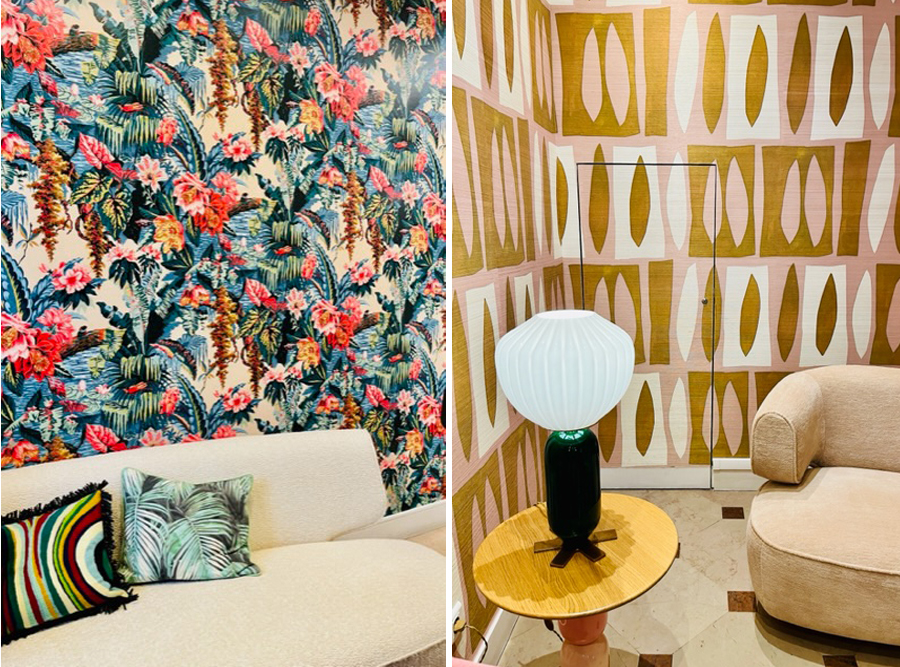 Masters of the Mix Pierre Frey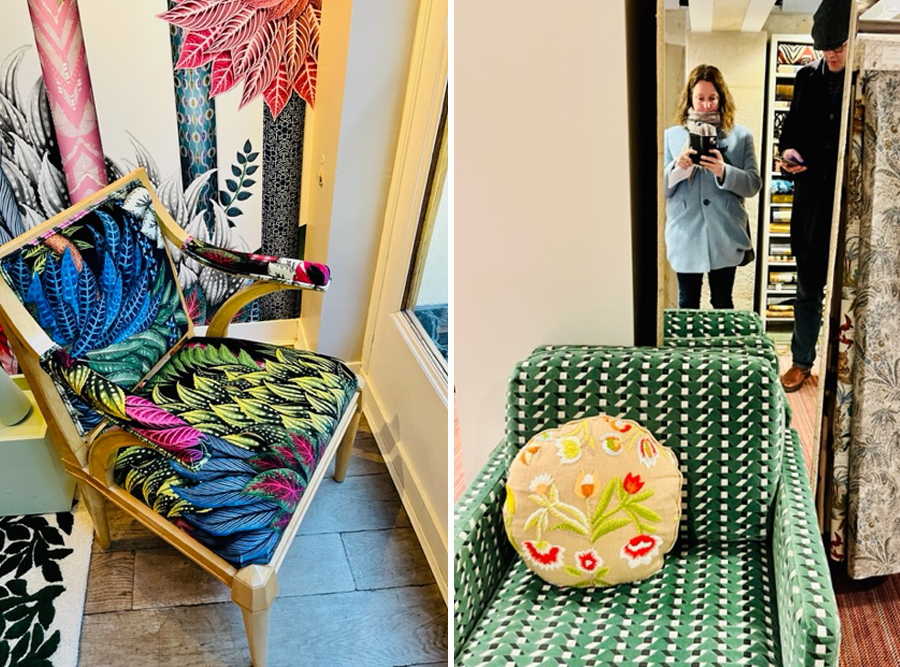 Botanical curtains too much? Upholster a chair or get a cushion made to get started. Here at Laxcroix and Designers Guild Interiors.
6. Bringing the Garden In. The Parisans LOVE to bring the outdoors in with a rich history of botantical prints and patterns in the form of intricate wall-art to textiles and paint. My personal dream is a conservatory with de Gourney wallpaper in an amazing floral print and lemon trees.
Tip: Create a garden or bohemian theme with botanical printed wallpaper, stencils or handpainted. There are lots of easy DIY tricks on Pinterest and Youtube or use elements using good quality faux, or even better, real plants. Green shades for your walls, and moasic tiles (removeable if necessary) in your bathroom for example, to design a green garden haven.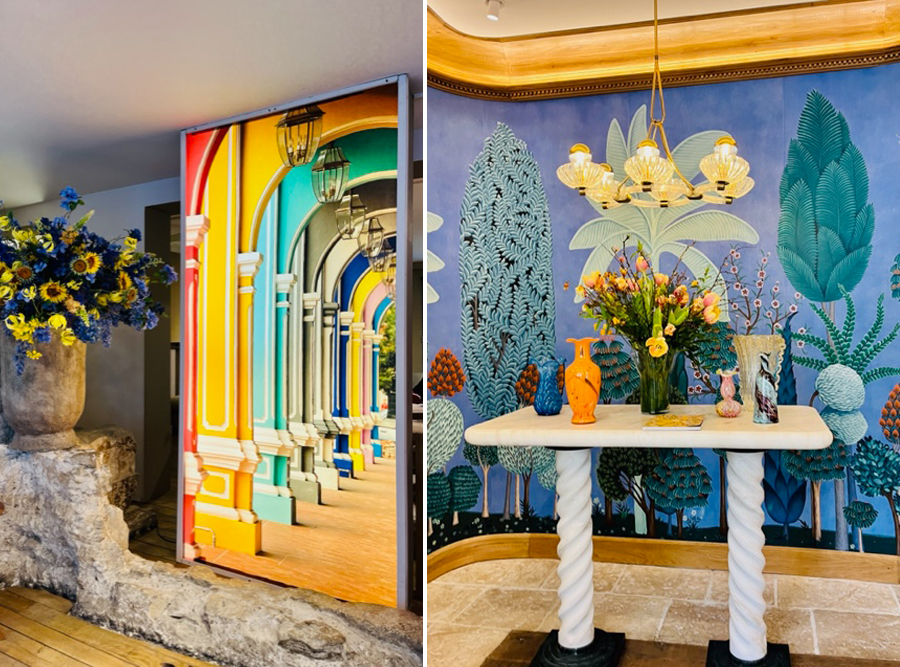 Here we get that mediterranean feeling at Flamant and a journey through magical worlds at de Gourney

7. Artistic license means that the Parisans never stop inventing and designing amazing creations. From furniture to textiles and artwork. Who needs normal? Don't be like the rest of them darling!

Tip: Can't find sometihng unusual in the shops or online? Then ask an expert (we offer a concierge service exactly for this here), get it made, or do it yourself. More often than not, it's easier than you think (hint: Youtube).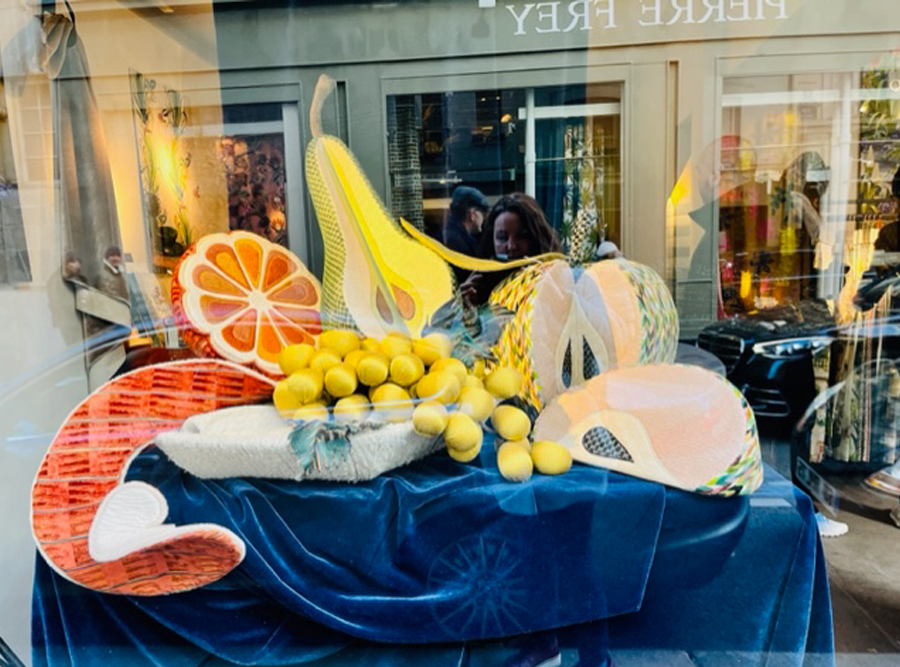 Fruity Fantasy at Osbourne & Little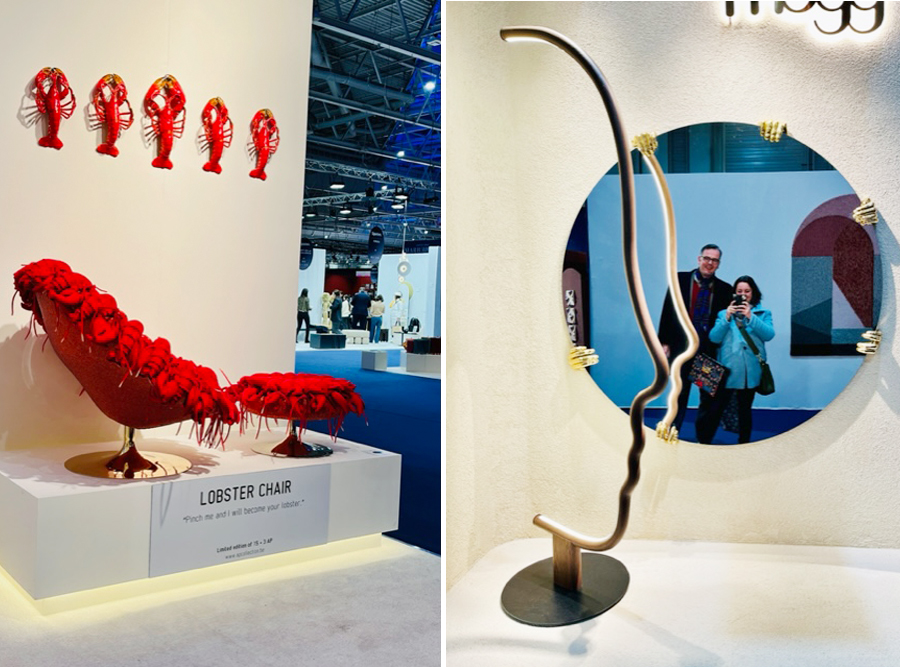 Lobster Love at the Maison Objet. We loved the 'handy' mirror too at mogg
8. Colour, Color, Coleur! Starting with Farrow & Ball, Little Greene, Flamant and so many more, you are engulfed in a world of sumptuous shades and tones and each colour is richer than the last. The Parisians don't shy away from daring colour and I love them for that. A world without colour is a very drab and sad place, and in my opinion has little to do with elegance or class. I don't get much energy or joy from grey or beige walls, especially living in a country where it's almost grey every day!
Tip: Now, this doesn't mean you have to paint all your walls sunshine yellow. But you can start with accessories. Candles, cushions, rugs, artwork or lampshades are a good place to start if you are searching for some colour in your home. Choosing a good quality paint with high pigmentation, for a long-lasting finish, and sustainablility is key. For you and your healthy home. You can even get paint made from potatoes these days!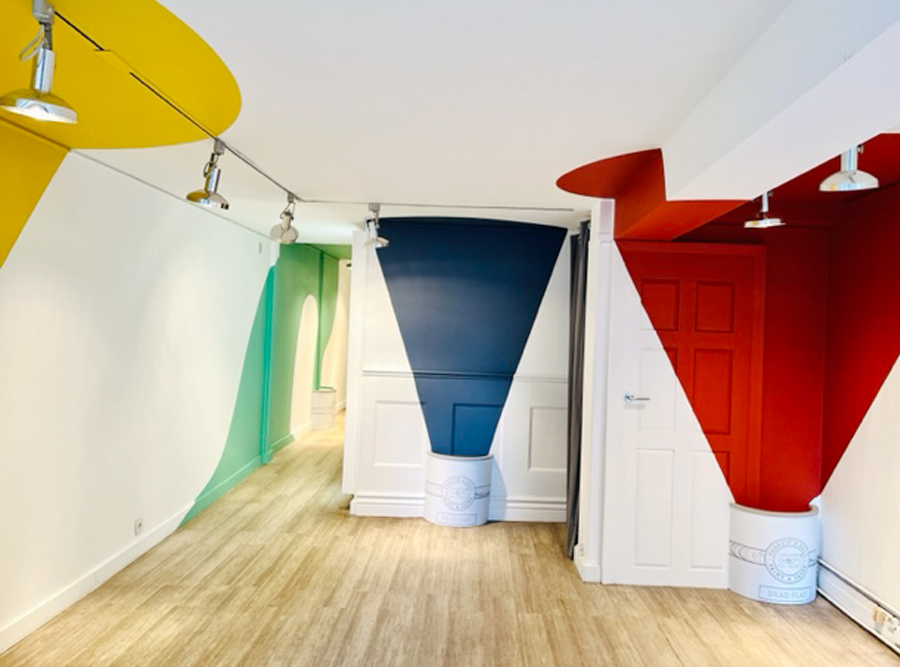 Paint spills can also look great at Farrow & Ball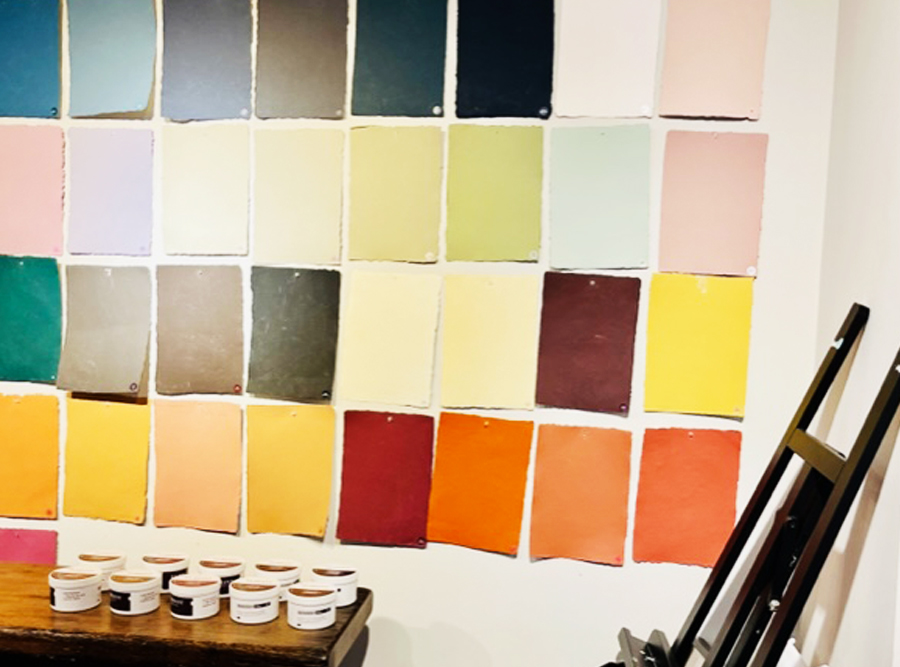 Flamant showed us how its done with paint-testers on the wall. Now which colour is it to be?
9. Humour is always a good idea when it comes to interiors. A smile is the best medicine, be it your own or someone else's.
Tip: Curtains with a fun print or an unexpected surprise in your artwork. Life is too short to take ourselves too seriously so, why start?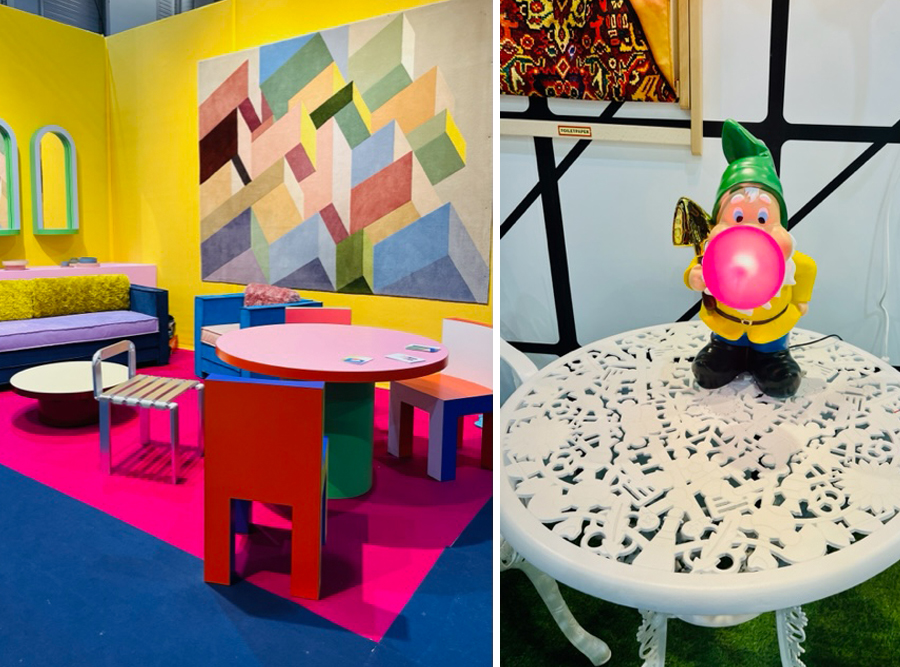 Almost like a comic at Maison Objet and one of Disney's 7 dwarves taking a chewing-gum break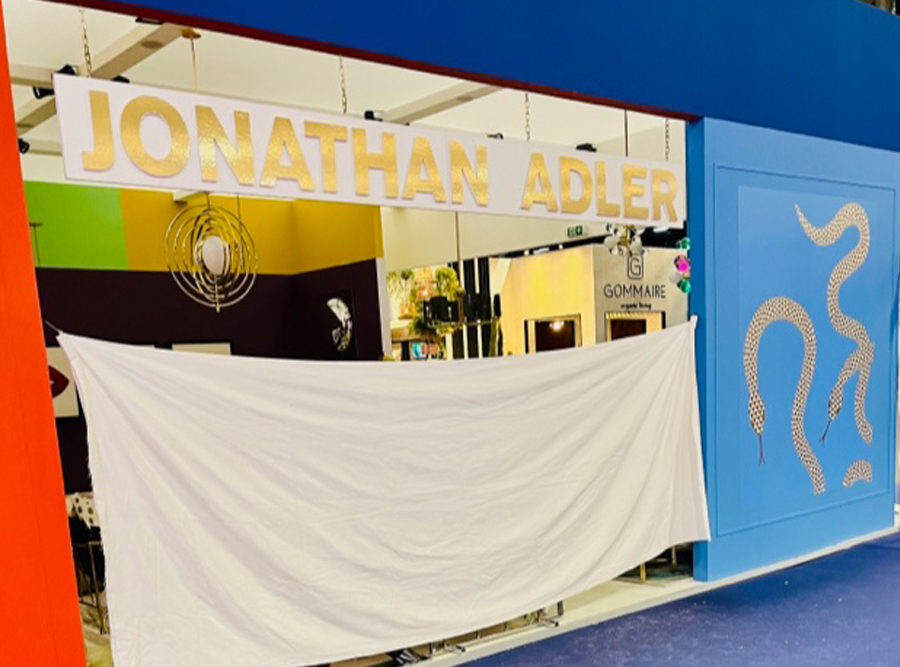 A shame Jonathan Adler was very shy about his collection when we were there. I love his humourous designs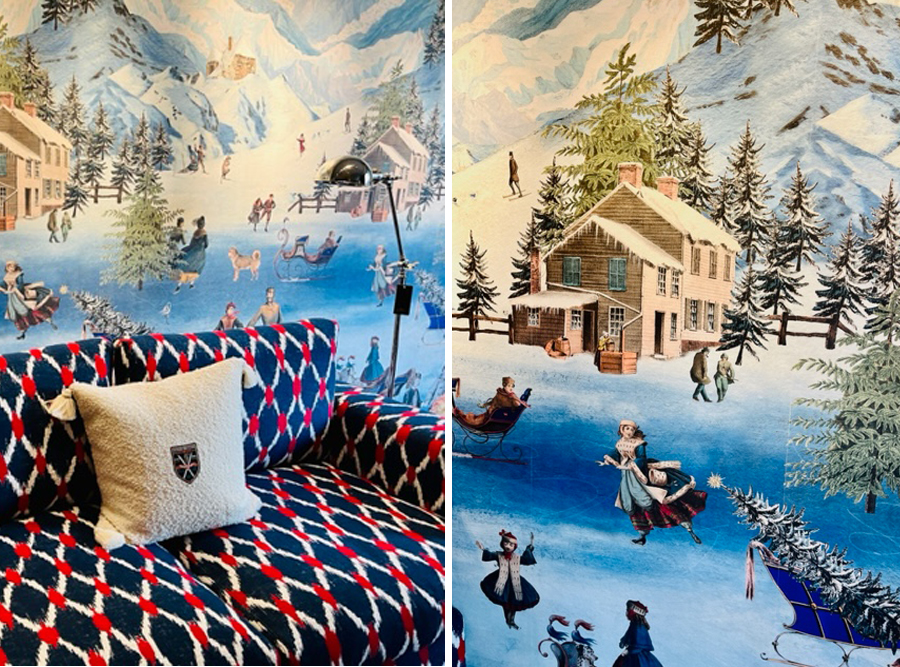 I adored Mind the Gap's vintage alpine winter scene. Very Sound of Music meets Heidi
10. History means tradition and the Parisians are proud of their heritage and the importance of ongoing restoration work. I wish Germany would take note. Everywhere you look stories are told through patina, patriotism, and the evolving styles of Art Nouveau, Renaissance and Baroque.

Tip: Restore or repair instead of throwing away. If you can't do it yourself there are experts. Don't like brown furniture or want a refresh, look at what you have and upcycle. Buying new isn't always necessary and there are many repair shops. Plus Grace & Holmes has an excellent partner who upcylces furniture and gives helpful tips. If it has to go, remember charity shops and companies who love to take your unwanted items.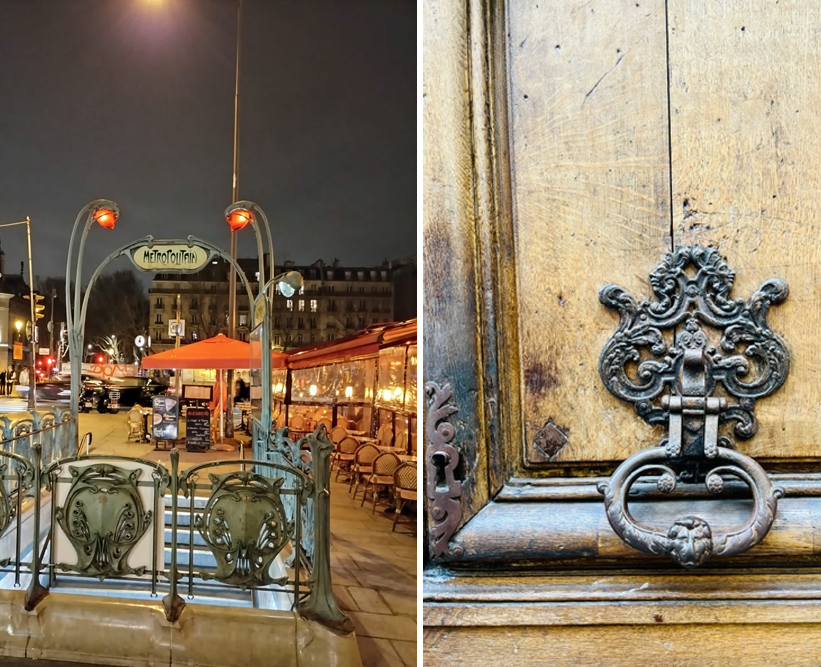 The Metropolitan station in its Art Nouveau glory and exquisite doortraits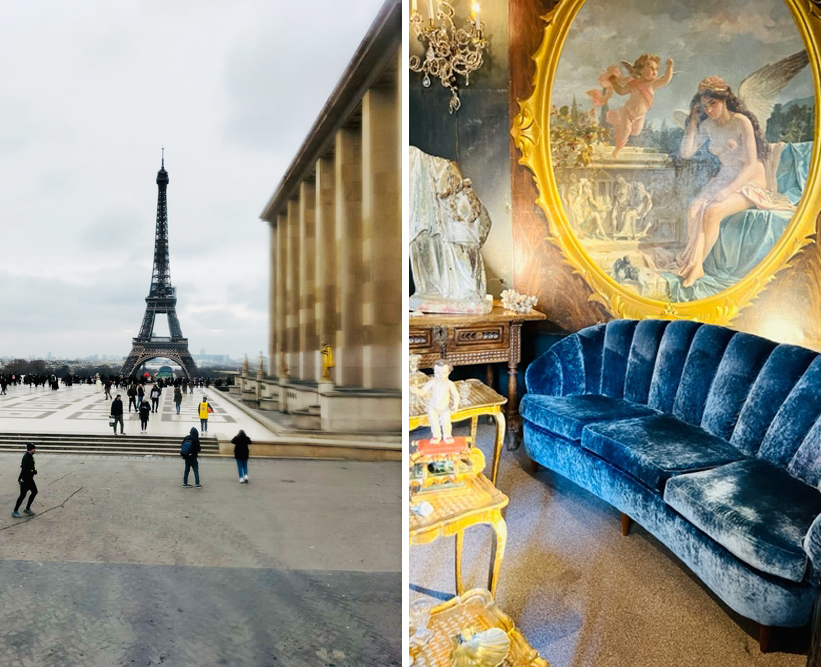 Who could miss it, the Eiffel Tower and antique lovelies at Yveline
11. The power of nature is a big thing in Paris and France. In nearly every showroom you could see flowers displayed, divine flower shops and if florals were not on the walls, curtains or decor, they were in vases and arrangements.
Tip: Don't underestimate the atmosphere plants and flowers can create. Apart from being good for you (they purify the air) they also react to good music, being spoken to and additionally just look amazing. They give a room an immediate homely feel and lift any mood. They just need watering and some fertilizer every now and again. Too hard work? There are beautiful versions of plants and bouquets in ceramic, paper, silk and wait for it, Lego!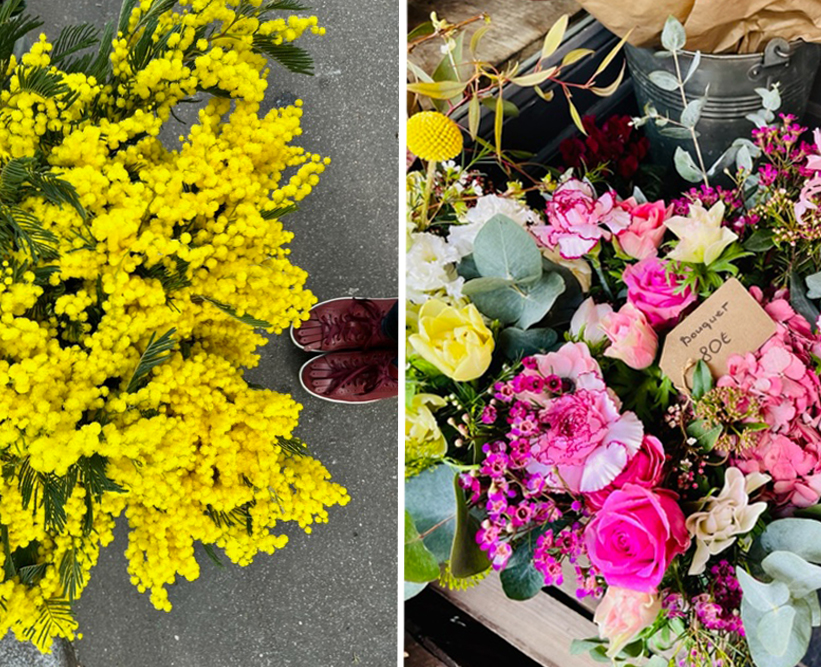 The beautiful yet very sensitive mimosas. A must-see in France in the Winter. Roses as far as the eye can see. And that perfume!
12. Paradise for a goumet. You simply can't come to Paris without trying the French cuisine. The first time I came to Paris I was so embarassed about my French that I only went to Mcdonalds! Now with a few words, you can get yourself a pretty decent dinner and many Parisians speak English.
Tip: A good kitchen is for life, so always plan your layout carefully and choose good quality materials and equipment. I would avoid carpet in the kitchen, choose hardwearing floors and generous workspace. There's nothing worse than a beautiful open-plan kitchen and nowhere to dice your veg. Also choose good quality food from the farmers market and try and cook fresh as much as possible. Your body wiill thank you. I always try and eat vegetarian during the week and the weekends are for celebrating with a glass of rosé and an entre cote.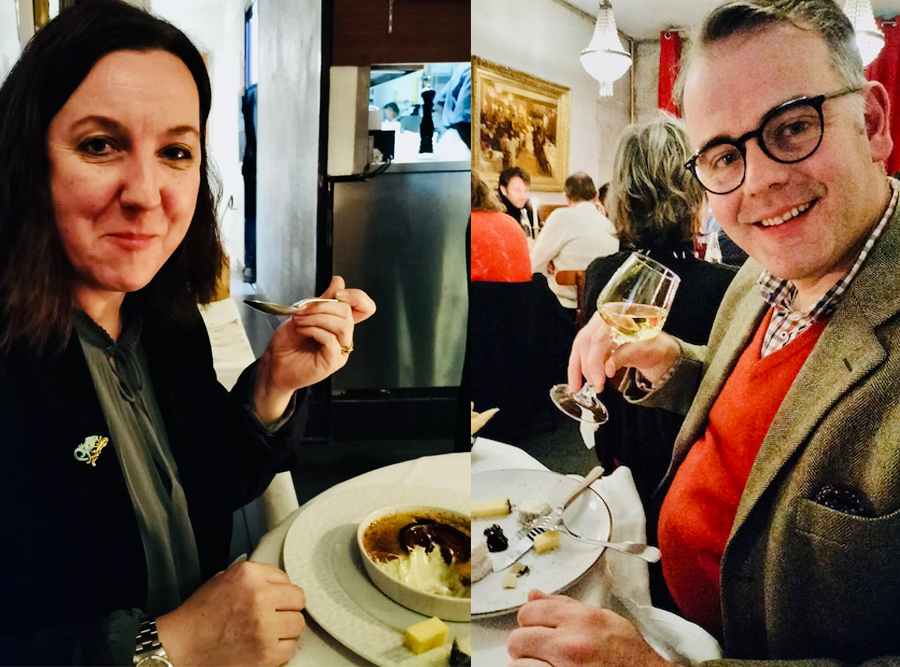 Here we are enjoying our Saturday night at a lovely little restaurant near out hotel. Just the way we had imagined it.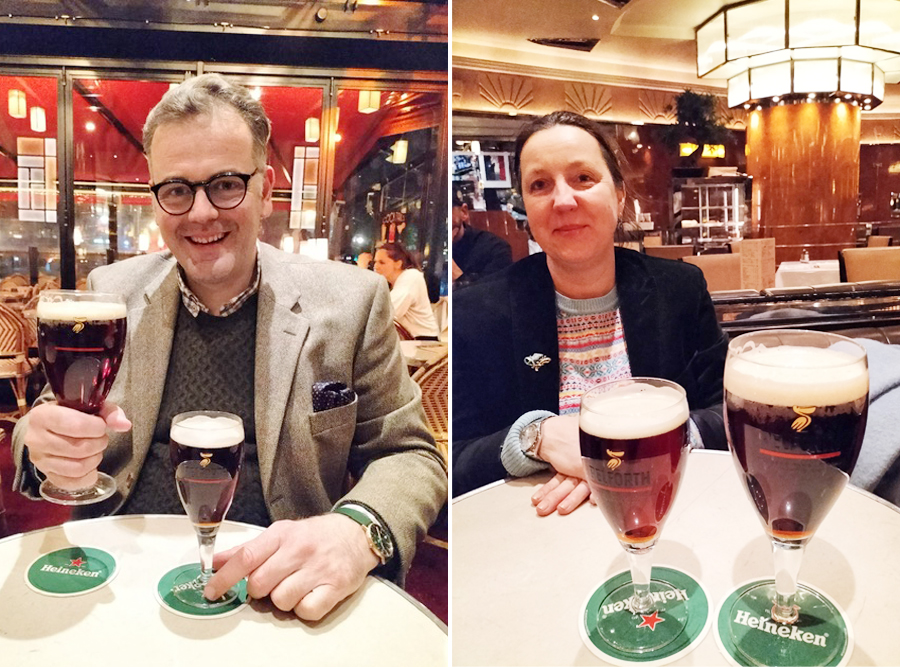 Drinks on Friday night with Pique en Biere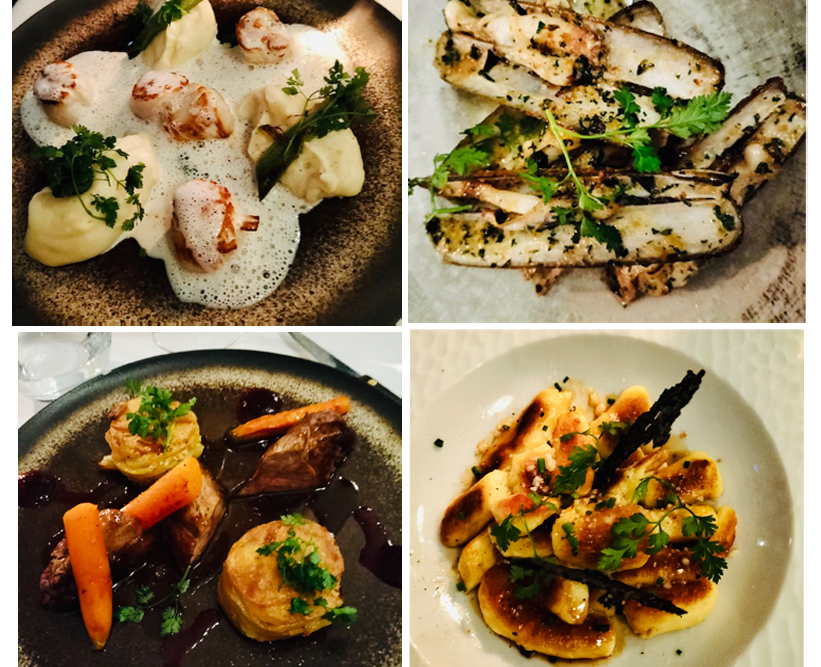 And the menu goes on with scallops, mussles, duck and polenta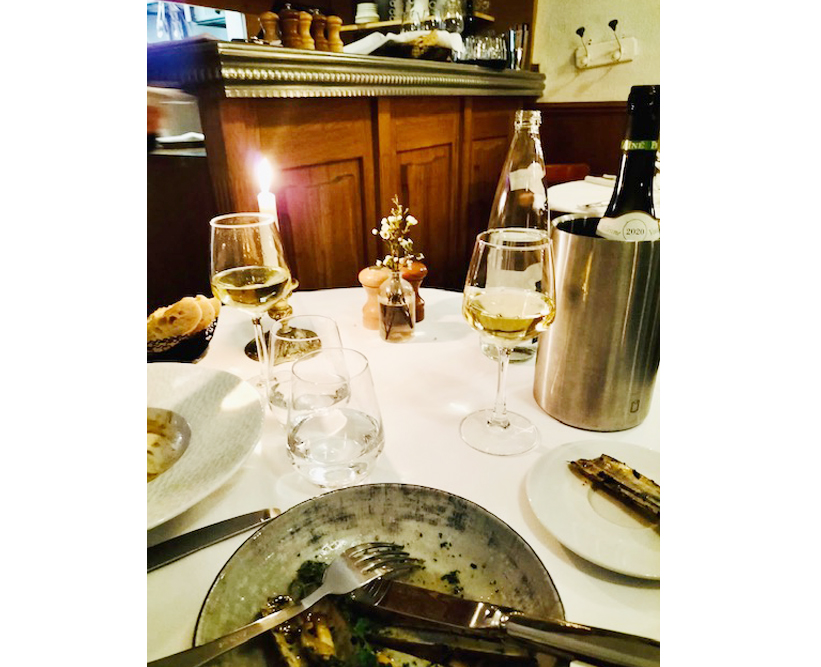 Bon Appetit!
13. City of Love (and Light). It might be a little kitsch but I still feel that Paris is one of the most romantic cities in the world. It has a flair and atmosphere that not many cities have, at any time of the year. Venice being another one. We had glorious sunshine, wonderful design inspiration, friendly people and unforgettable food and drink.
We cannot wait to go back in September and we hope our little selection of Parisian design and lifestyle tips have inspired you also.
If you need further help or advice, then contact me, get on a pre-design call, join an on or offline course or browse the Grace & Holmes website where we have many happy clients, projects, our shop, blog and so much more.
Sign up for our VIP newsletter fir regualr updates and offers and I'd LOVE a comment below.
Bonjour my lovelies and see you soon.
Bianca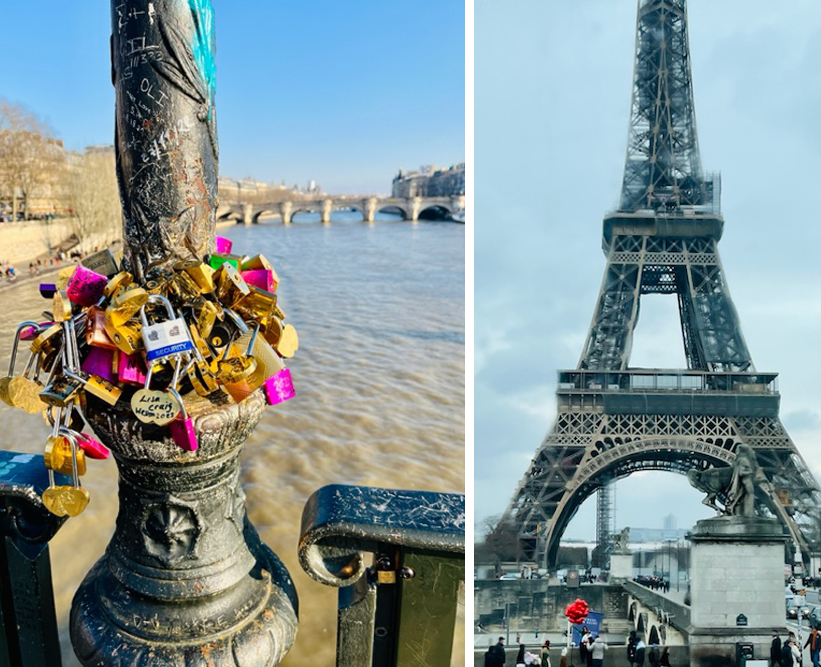 Lockets of Love at the Seine and why it's always romantic at the Eiffel.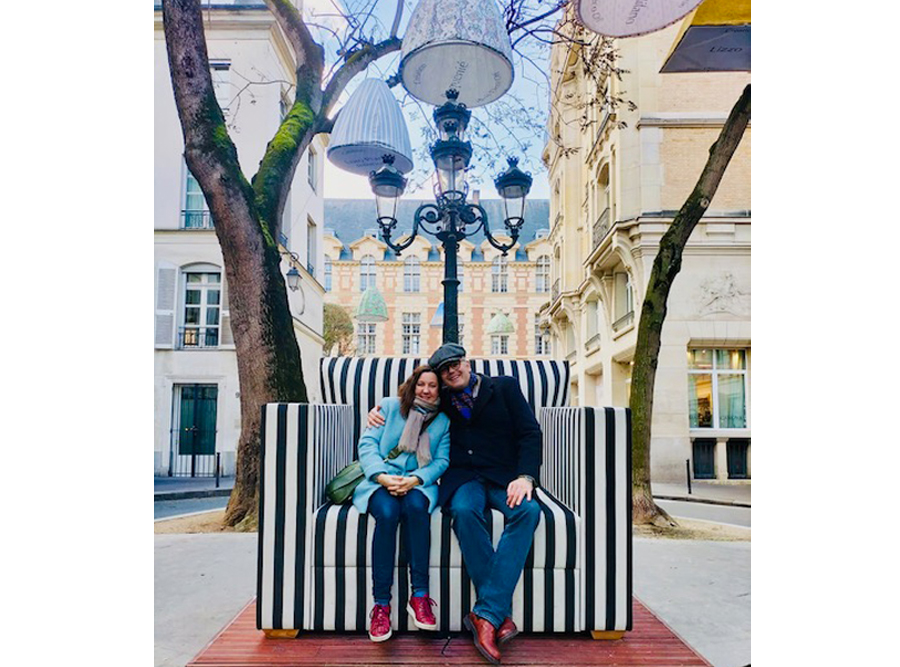 Getting cosy on the striped maximalist armchair - So Paris
What Paris can Teach you about Design was first published here at www.graceandholmes.com
All photos: Bianca Demsa & Christoph Kopowski