40th birthday bliss on historical train and playing Lady of the Manor
Part II



Travelling on the Venice Simplon Orient Express: Eggington House

We headed over to Euston because our journey continued in a far less luxurious train heading to Bedforshire. I'm a fairly new customer of Airbnb and I was delighted to be able to spend the next few nights at a 17th-century mansion in Eggington. The house belonged to a Mrs. and Mr. Garrigue who had purchased it around 5 years ago and have been doing it up. And with 16 rooms I guess it might take a while. Arriving at this tiny station in Leighton Buzzard we were glad to be able to get a taxi and doubly glad because there was about one street light and it was pitch black. At the house we were greeted by Suzie, her French husband and their three sweet retriever dogs, Megan, Hattie and Emily. Megan was the cheeky, smiley one, Hattie the shy one and Emily the skeptical one. We were shown to our room and I could not have imagined a more beautiful blue bedroom with antique furniture, a huge working fireplace, elegant black framed pictures on the wall and lovely windows across the whole of the right side of the door with stunning French shutters. The interior design very English but also very French. A harmonious mix and fusion of styles. To think that Suzie's family is French and the house was built by a Frenchman, it all makes perfect sense.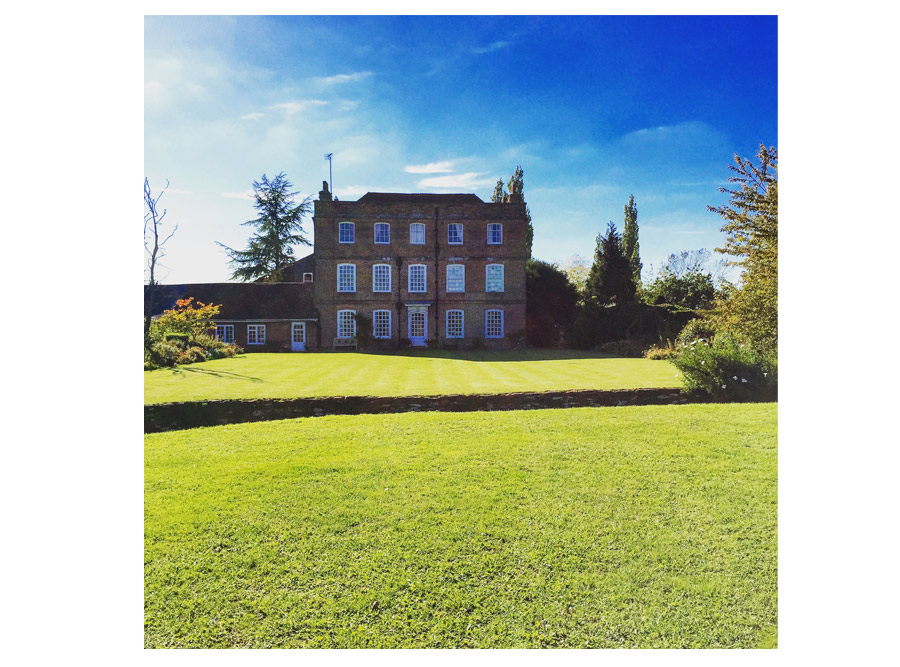 Eggington House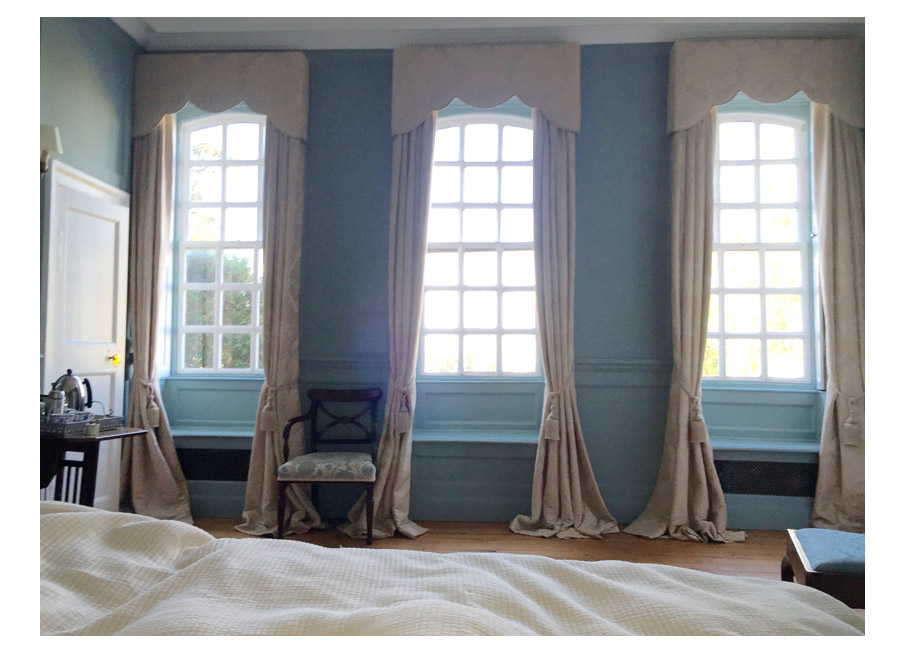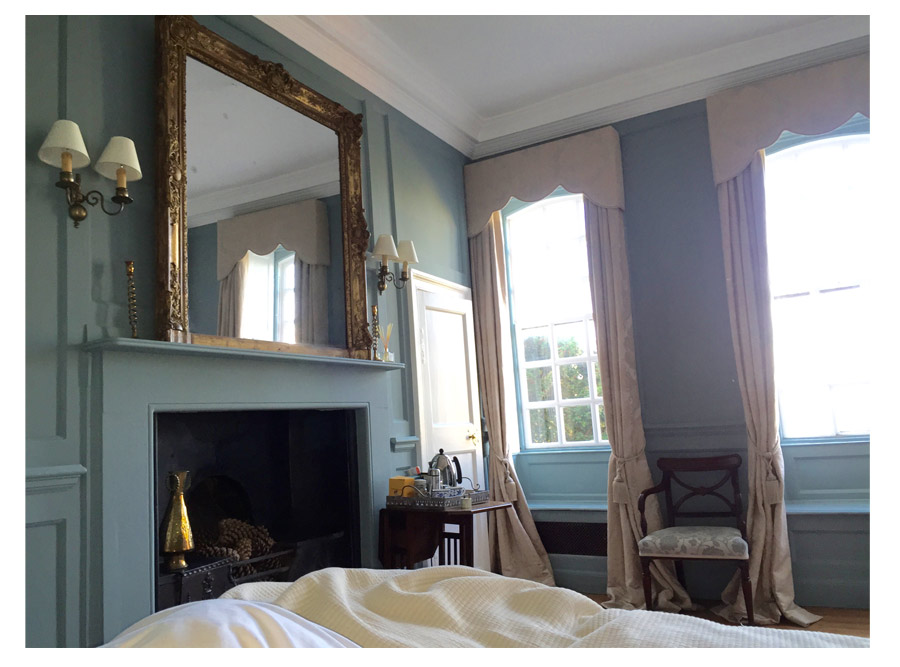 Our bedroom
Travelling on the Venice Simplon Orient Express: Baked Beans and Dog Walking
After an extremely restful night where we slept like stones we woke up to be served breakfast in the main dining area in front of a roaring fire. The breakfast was waiting for us on a beautiful mahogany oval table and we had the lovely luxury of being able to choose a breakfast of English or continental. We went for the full English with entirely regional products. Sausage and baked beans, homemade marmalades, sour dough bread made by her husband and all the while the three dogs observing us greedily. We explored the labyrinth of a house. The paneled drawing room with original 17th century graffiti on the window panes, the study filled to the brim with books and the house's original lighting, the Downton Abbey style servants bell in the kitchen and the stupendous paintings including a large portrait of the family's great, great grandmother with a hidden note.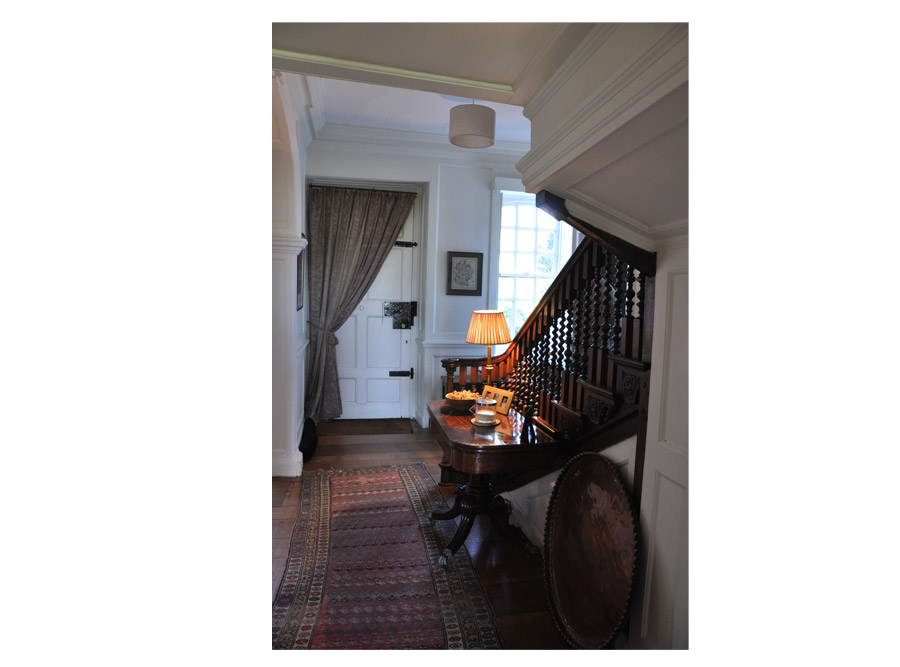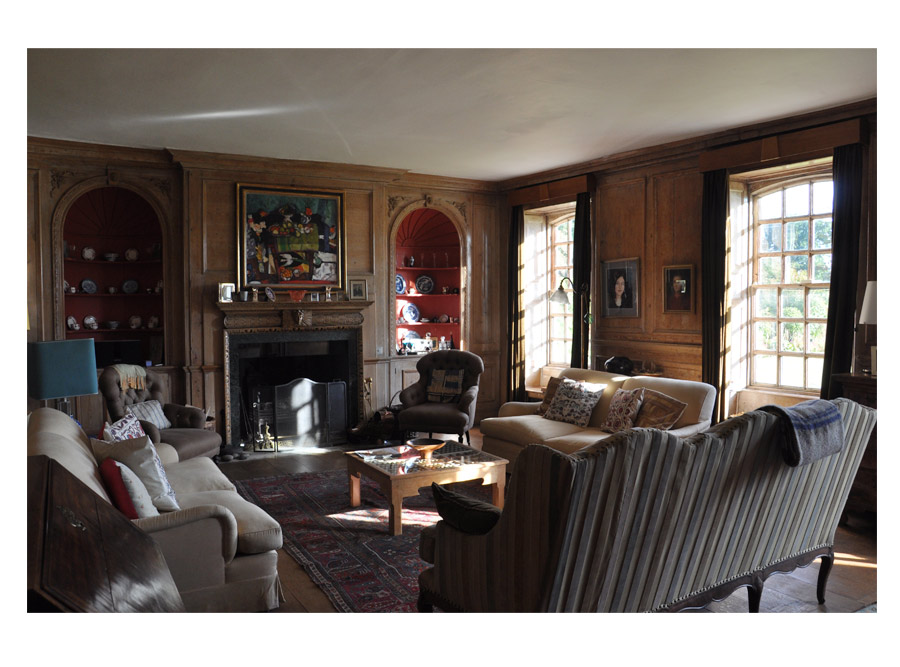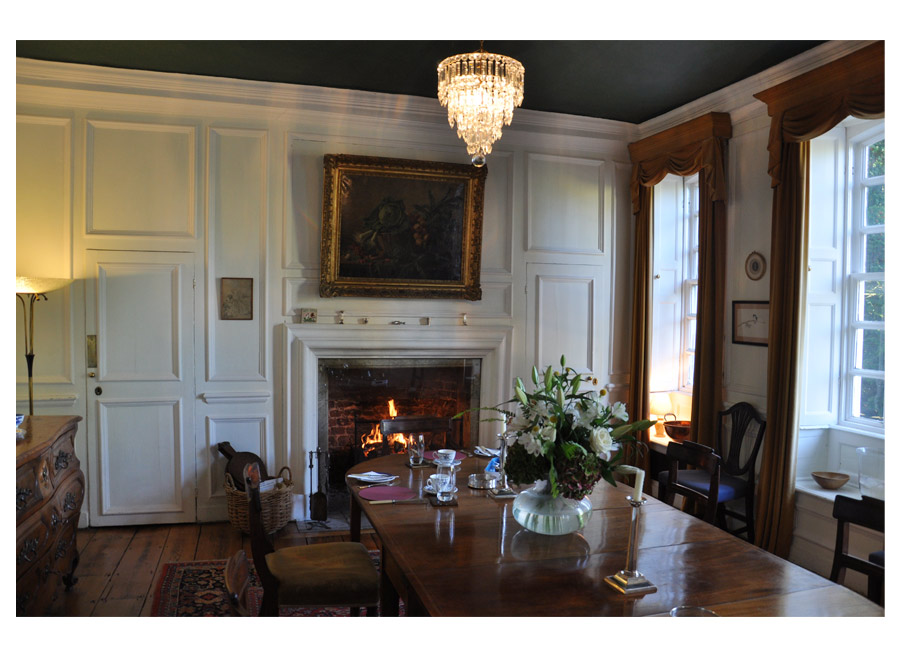 From top to bottom: Hallway, living room and breakfast room

With it being a beautiful sunny day we decided to explore the grounds. Acres of glorious fields and that fresh country air. I love how green England always is. The first hour or so we took the three dogs with us and checked out the huge teepee that Suzie had organised for her daughter's sweet 16. I have never seen anything like it but I immediately took to the idea. Maybe for the next birthday? After we brought back the dogs we decided to walk on over to the next farm. But it took a lot longer than we anticipated and we ended up getting utterly lost. Tip-toeing through a cow field, where the cows seemed more than a little bit too agitated for our taste and trudging through the Bermuda Triangle of muddy fields that didn't even exist on Google Maps. Luckily Suzie had given us a rarity, a paper map! We were slowly getting worried that we wouldn't make my birthday dinner that evening. But in the end we had it all figured out and got back to the house about er, two hours later.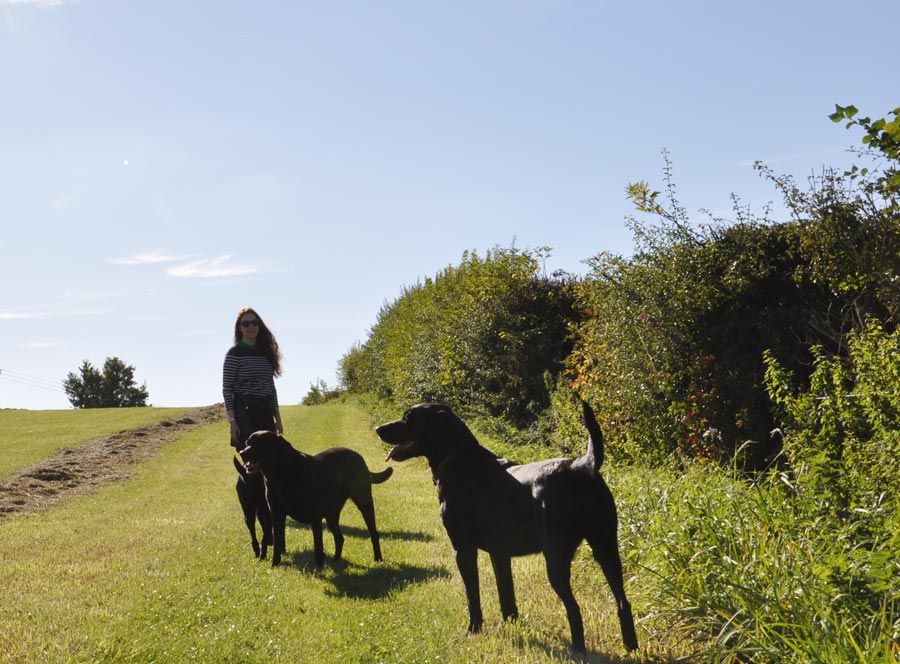 Taking the dogs for a walk around the grounds
Travelling on the Venice Simplon Orient Express: Life begins at 40 and at the Kings Head Pub
We got dressed in a hurry and called the taxi to take us to the Kings Head pub, which was no ordinary pub by the way, but a 4-star restaurant in Buckinghamshire and rated as one of Britain's finest. We were greeted by our French waiter and the director of the restaurant. It was fairly quiet being a Monday but we were treated like a king and queen nonetheless. We started off with drinks in the cosy bar, with beamed ceilings, an open fireplace and comfy chairs. We were then escorted into the restaurant and it felt like we had been transported into another world and another time. Dark wood, art deco paintings from Tamara Lempick on the walls, subtle lighting and tasteful crockery on the table.


I had the steak and my husband the liver, both of which were absolutely delicious. Then we proceeded onto the dessert, a lovely flavoured ice cream with seasonal fruits. We were then asked if we wanted to take coffee in the salon or at our table. The salon was also filled with cosy furniture, Ming-style vases and oriental art. And then came the second surprise of the week. A beautiful birthday cake which was presented with our coffee and big enough to feed 4 people, with a cream filling, chocolate and fruit. Delicious! By the end of the evening I felt as though I had been eating nonstop for days but I managed to roll into my bed that night happy as can be.



Travelling on the Venice Simplon Orient Express: Fond Farewells
We didn't have that much time in the morning before our flight left for Hamburg, so we enjoyed our regional breakfast and then it was time to leave. I made sure Suzie got a little souvenir of Hamburg. A typical German cotton shopping bag, but with a lovely Hamburg motif on it. I look fondly on those days from my 40th birthday as they were unforgettable, Magical, wonderful, grateful days. I felt extremely lucky to be able to share them with my husband and now I can share them with you. I hope you all have the opportunity to make your dreams come true however big or small.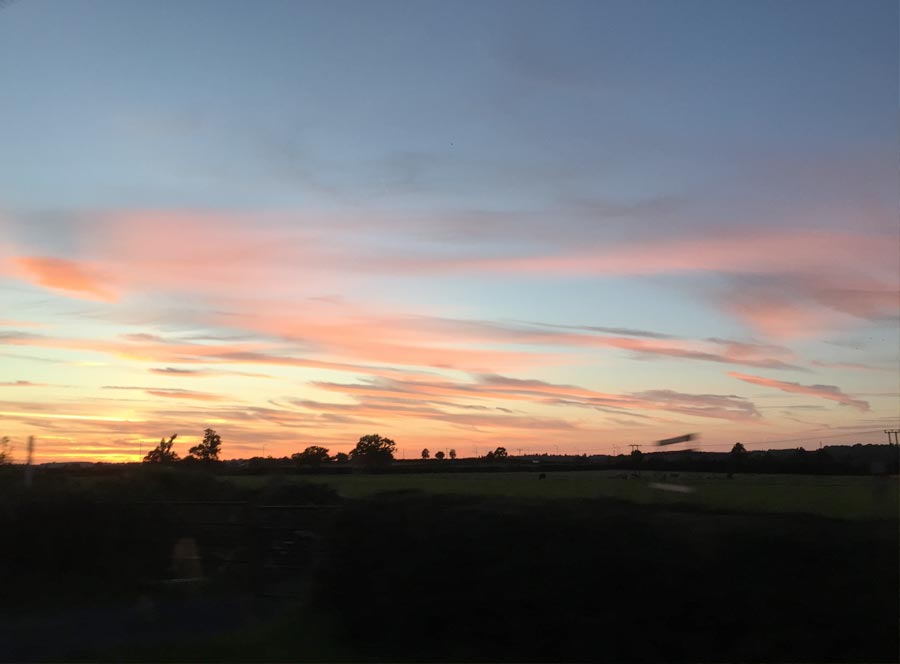 Sunset on our last evening
Photos: Bianca & Lorand Demsa