The Opulent Festive Tablescape
Sometimes not less is more, but more is more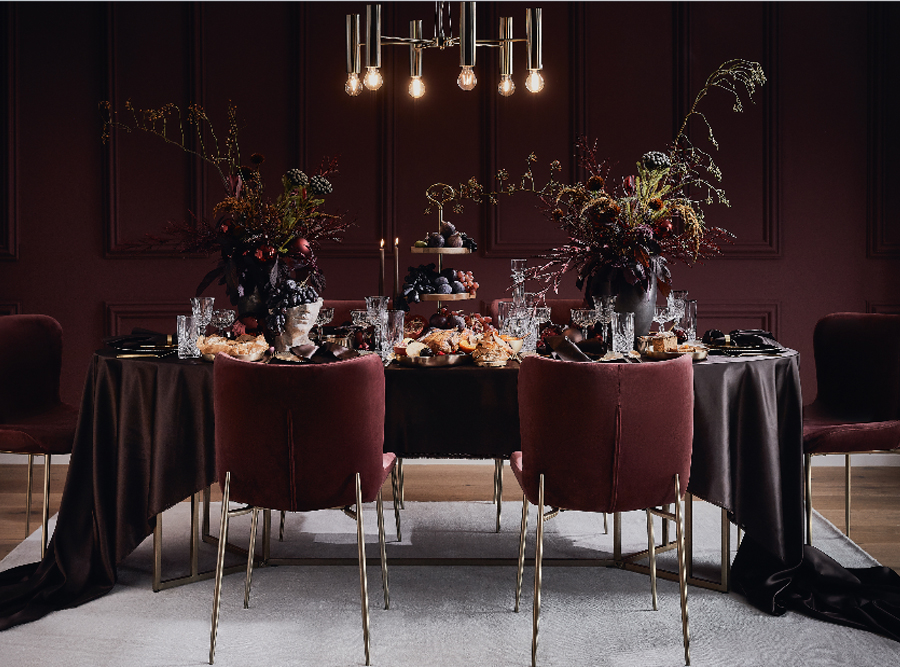 The Festive Season to the max
Don't get me wrong. Extravagance shouldn't be about clutter. Moreso about going a little over the top on (a special) occasion. In that case, abundance should be on show, and enjoyed in all its glory. As long as you choose the decorative elements carefully and stylishly, they may also glitter and shine in this maximum interior style. However, they must be chosen with conscious care and arranged confidently, with rich colors and opulent fabrics and materials. Moreover, a special emphasis should be placed on high quality and timeless design to create a stylish ambiance and exquisite home decor where Downton Abbey meets Gatsby glamour.

This style of decorating a table is perfect for lovers of lavish extravagance. Sophisticated textiles like velvet, or satin, antique glass, marble, metallic finishes and dark woods are perfect for the festive table and further enhance the look. We celebrate the feast of feasts as if dining in a fairy tale castle: Vintage crystal glasses filled with rose champagne and a long table set with the finest porcelain plates, fine cutlery and cloth napkins in the deepest Bordeaux red or peacock blue. This is how the opulent festive table comes to life! Luxurious arrangements adorned with feathered ornaments, peacock plumage, and sparkling candle-holders decorate with ease and yet create a sense of awe for your guests.


What you need:


Glamour Glasses
There is nothing more beautiful than the heavy vintage and antique glasses. In any case, champagne or sparkling wine should be served in crystal glasses, but it is also important not to forget the water and digestif glasses.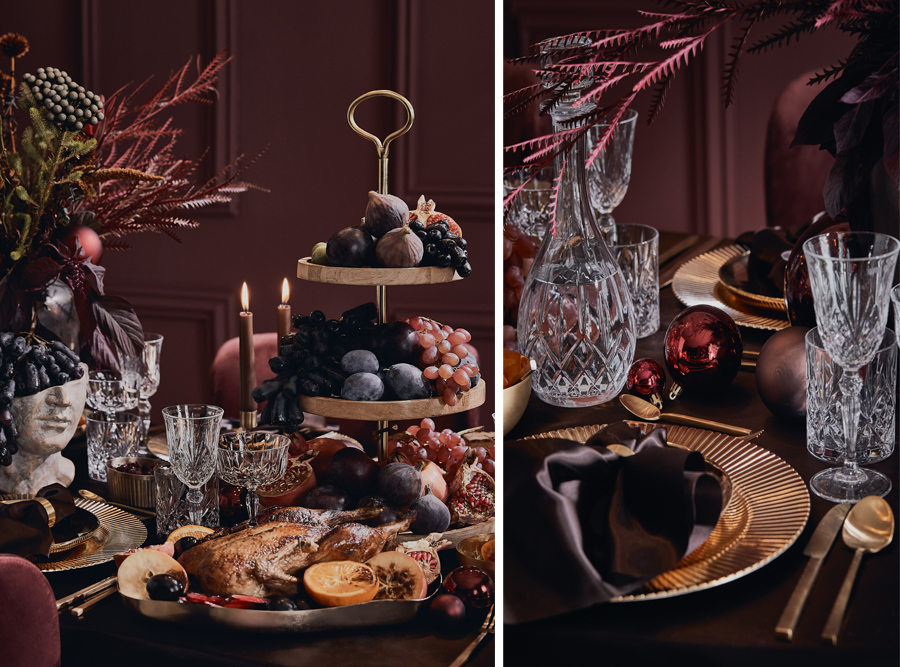 Glass with Class
Stunning Table Decoration
What can we say, when it comes to styling, "more is more!". An extra-long tablecloth makes for a great stage set and the guests can arrive! Glitter baubles and golden pine cones put themselves on display, but elegant metallic candlesticks also add sparkle. Following the credo "the more the merrier," marble busts also look beautifully dramatic. A spark of neoclassicism ignites brightly along with a touch of English pageantry.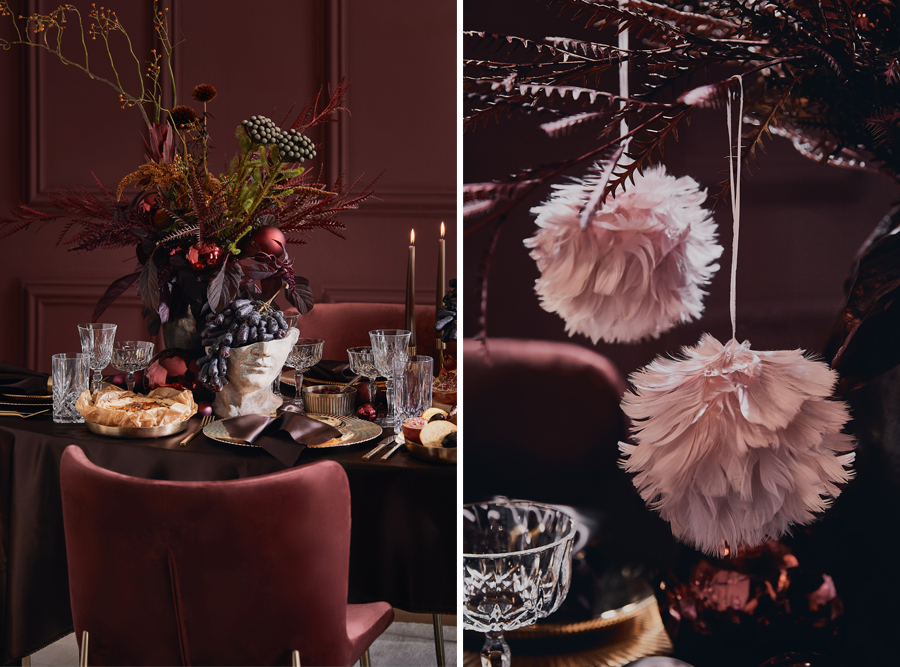 From neoclassic drama to feathered elegance
Color Saturation
Color code in decor: warm gold and dark sensual tones from red to teal. The style is reminiscent of the British series "Downton Abbey" or the film adaptation of "The Great Gatsby". The most important accessory: glamorous materials from soft velvet to shiny gold and cool marble. Opposites attract, of course.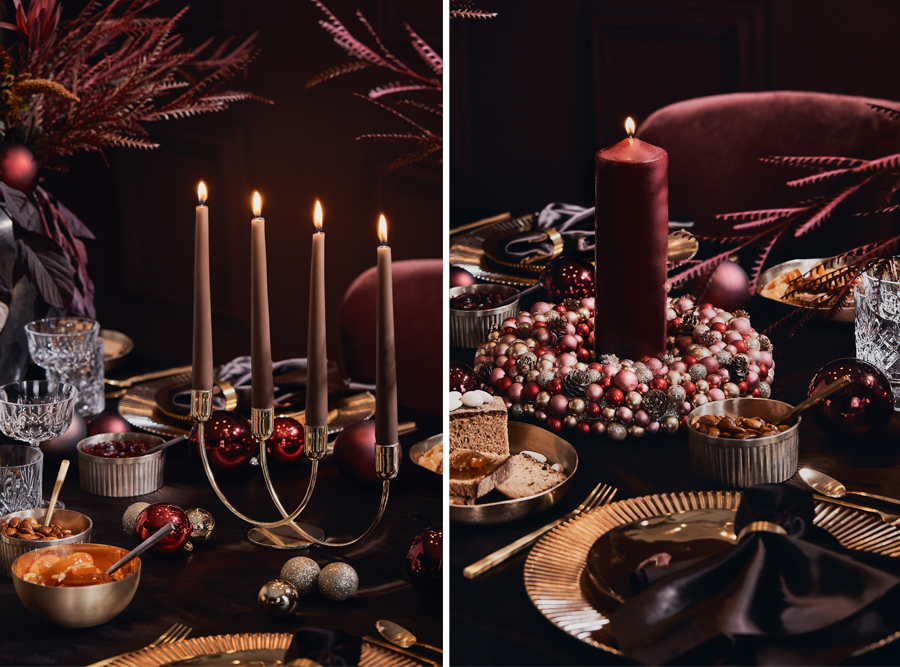 Sumptuous swathes of purpur, crimson or petrol


The Menu
Fine candied fruits and elaborate desserts with opulent dishes. Several courses are served in style and h'oudeuvres are arranged on etagères and golden trays. One takes one's time and enjoys the ambience. because as we all know, food and drink should be a feast for the eyes.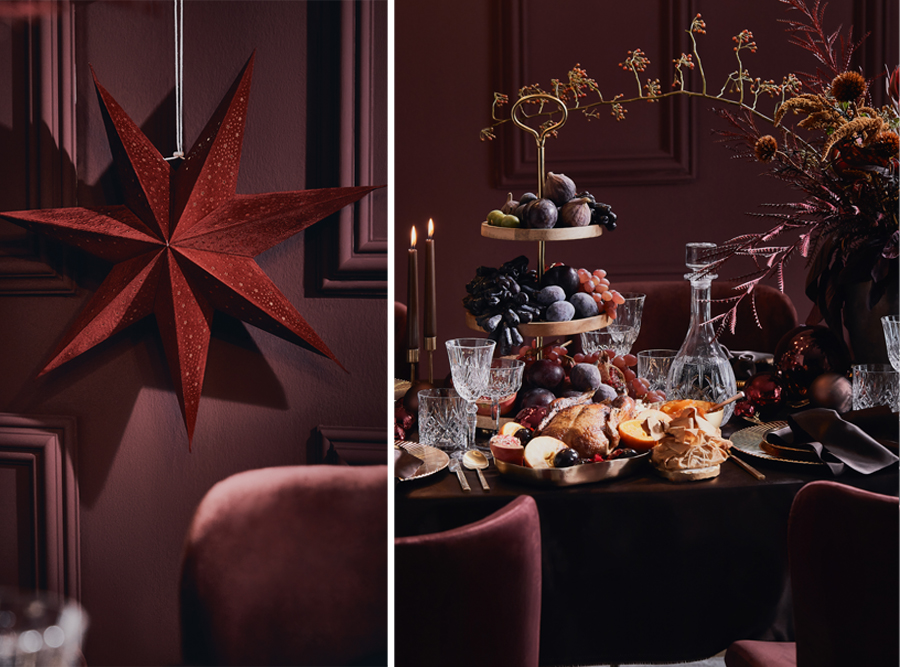 Go all out on the menu and try something new. There are an array of fabulous cookbooks including the Downton Abbey & Highclere Castle festive editions
Make Christmas or New Years Eve 2021 the most opulent Christmas ever! And give 'Best Dressed' a whole new meaning. Merry Christmas everyone and see you in 2022!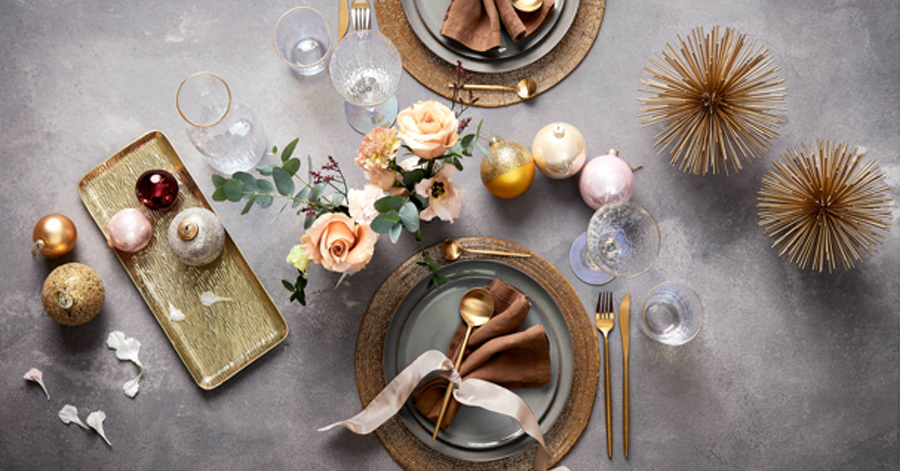 Not a fan of moody tones? Then neutrals work just as well for an opulent table
The Opulent Festive Tablescape was first published here on www.graceandholmes.com. Photos by Westwing and Butlers