From Antique to Avant-Garde
My Interior Design Inspiration at TEFAF Maastricht 2023

Greetings from the TEFAF 2023!
As an interior designer, there's nothing more exciting than attending the prestigious TEFAF - The European Fine Art Fair, Maastricht. And my recent visit did not disappoint! TEFAF Maastricht is known for showcasing some of the world's most exceptional art and antiques, and this year was no exception. From Renaissance paintings to contemporary sculptures, the range of pieces on display was breathtaking. The event takes place annually in Maastricht, a charming city located in the southern part of the Netherlands.

Typical Dutch architecture and cosy cobbled streets and a lively cafe culture
If you're coming from afar, I highly recommend flying into Amsterdam and taking the train down to Maastricht. It's a picturesque 2.5-hour ride through the Dutch countryside, and you'll arrive in the charming city of Maastricht ready to explore. Otherwise travel includes a good bus and train connection if you are coming from nearby. We took the car from Hamburg and it normally takes about 4.5 hours. We needed 8 because we landed in a snow storm!




After a heavy snowstorm we arrived at the colourful snowfree streets of Maastricht
TEFAF Maastricht brings together the best and most exclusive art dealers and collectors and is a flurry of art enthusiasts with more than 275 exhibitors from over 20 countries. The diversity of artworks on display is amazing. From contemporary art to rare ancient antiques, the fair caters to every taste and preference. So, whether you are a seasoned collector or a first-time visitor, you are sure to find something that will catch your eye.

A quick stop at the most beautiful book shop in the Netherlands. The Bookstore
Dominicanen located in a 13th century church

Another tip I would give, is to plan well ahead. With over 275 exhibitors, it can be overwhelming to navigate the fair without a game plan. Take some time before your visit to research the exhibitors you're most interested in seeing and make a plan of attack. Another pro-tip is to take advantage of the TEFAF app. The app provides an interactive map of the fair, a directory of exhibitors, and even a schedule of talks and events. Plus, you can save your favourite pieces and exhibitors for easy reference later on.

So, lets make a plan of the plan...

Spectacular floral explosions greet us as we arrive

Upon entering the Maastricht Exhibition and Congress Centre, I was immediately struck by the sheer scale of the event. The grandness hadn't changed from my pre-covid visit in 2019. From the beautiful floral displays, the vast number of exhibitors and the venue which was bustling with elegant people from international destinations, all eager to admire and purchase some of the world's finest art and antiques.



What a lovely welcome

From parrot tulips...

...to roses and hydrangeas

A floral avalanche

As an interior designer, I was particularly drawn to the beautiful and unique pieces of antique and decorative furniture that were on display. From ornate antique chandeliers to intricately crafted wooden chairs, there was an incredible range of styles and periods to choose from. I spent hours wandering through the various exhibits, taking in the breathtaking pieces on offer. The level of craftsmanship and attention to detail was awe-inspiring, and I found myself taking copious notes and photos for inspiration in my own designs. My favourite antique piece was the 'La Grande 'Blibliotheque.' Worth over 9 Million the impressive bookcase was designed by Francois Linke for the 1900 World Exhibition in Paris.

La Grande Blibliotheque ca. 1900

Beautiful details

A pair of impressive decorative Egyptian eyes from a burial mask ca. 2000 B.C

One of the most interesting exhibits I found, was also the contemporary art section, which showcased a range of innovative and thought-provoking pieces. I was particularly drawn to a striking installation made entirely of recycled materials, which served as a powerful reminder of the importance of sustainability and eco-friendliness in our modern world.

In the contemporary art section an installation to the topic of sustainability

Another highlight of my visit was the opportunity to speak with many of the exhibitors and fellow interior designers, who shared their insights and expertise on the latest trends and styles in the industry. One such expert was Luca Burzio. You could literally feel his passion for the pieces, including an exquisite (day) bed and matching 1820s ensemble by renowned Italian artist Giuseppe Borsato (1775-1841), Venice.

Giuseppe Borsato's Ensemble from ca.1820

In addition to the art and antiques on display, TEFAF also offered a range of cultural and educational events, including lectures, talks, and workshops. They provide an amazing insight into the world of art and antiques and their role in shaping our cultural heritage. It was fascinating to see how different cultures and regions had their unique takes on interior design, and I came away with a wealth of new ideas and inspiration for my own work.

Contemporary furniture like works of art

Alfred de Dreux 1810- Paris-1860 - Amazone a la robe rouge dans un paysage

Henri le Sidaner Port-Louis 1862-1939 Versailles - La petite table

Jan Davidsz de Heem Utrecht 1606-1683/84 Antwerp Still life with apricots on a pewter plate, a cut lemon and other fruit
with a rummer of white wine and a Ventian-style wine glass on a tabe covered with a green cloth, wreathed with a vine branch

Rachel Ruysch The Hague 1664-1750 Amsterdam Still life of a bouquet of pink and white roses, poppy anemones, primroses, forget-me-nots, jonquils, daffodils, snowballs, honeysuckle and tulip in a glass vase, with a bird's nest

Achille-Emile Othon Friesz (1879-1949) Le port d'Anvers 1906

Peder Mork Mönsted 1859 - Balle Mölle -1941 Fredensborg - A winter landscape

Jonas Wood - Three clippings 2018

Jonas Wood - Three clippings 2018


One of my absolute favourites. A 1930s Art Deco desk with matching leather accessories.
Just divine! Galerie Marcilhac

Exploring antique heaven

And lastly, let's talk about the food. As someone who loves to indulge in local cuisine while travelling, I was delighted to find that Maastricht has a vibrant food scene. From traditional Dutch dishes to international cuisine, there's something for everyone. And while at the fair, don't miss out on the champagne and oyster bar – it's the perfect spot to recharge and toast to a successful day of art appreciation.

Oysters galore including with goldleaf!

Yum!

Exquiste tartlets with rasberry and lemon at the TEFAF bistro
Delicious cheese plate at the very recommended Cafe Sjiek in town

Love their branding!

Sardines to start

A great atmosphere and many TEFAF visitors dining there
One of our favourite bistros the Revue with great service and amazing food


Cheese, yes please! At the Sunday market
Cheers! a quick sundowner at De Gouverneur , Boschstraatkwartier
Overall, my visit to TEFAF Maastricht was an unforgettable experience. As an interior fusion expert, it was a unique opportunity to see some of the world's most beautiful and valuable pieces of old and new art and antiques, and to connect with fellow professionals in the industry. It was both inspiring and energising, and I travelled back with a newfound appreciation for the incredible skill and creativity that goes into creating these magnificent works of art.

Ps. Can't wait for TEFAF Maastricht 2024? Then there's always TEFAF New York May 12-16th 2023.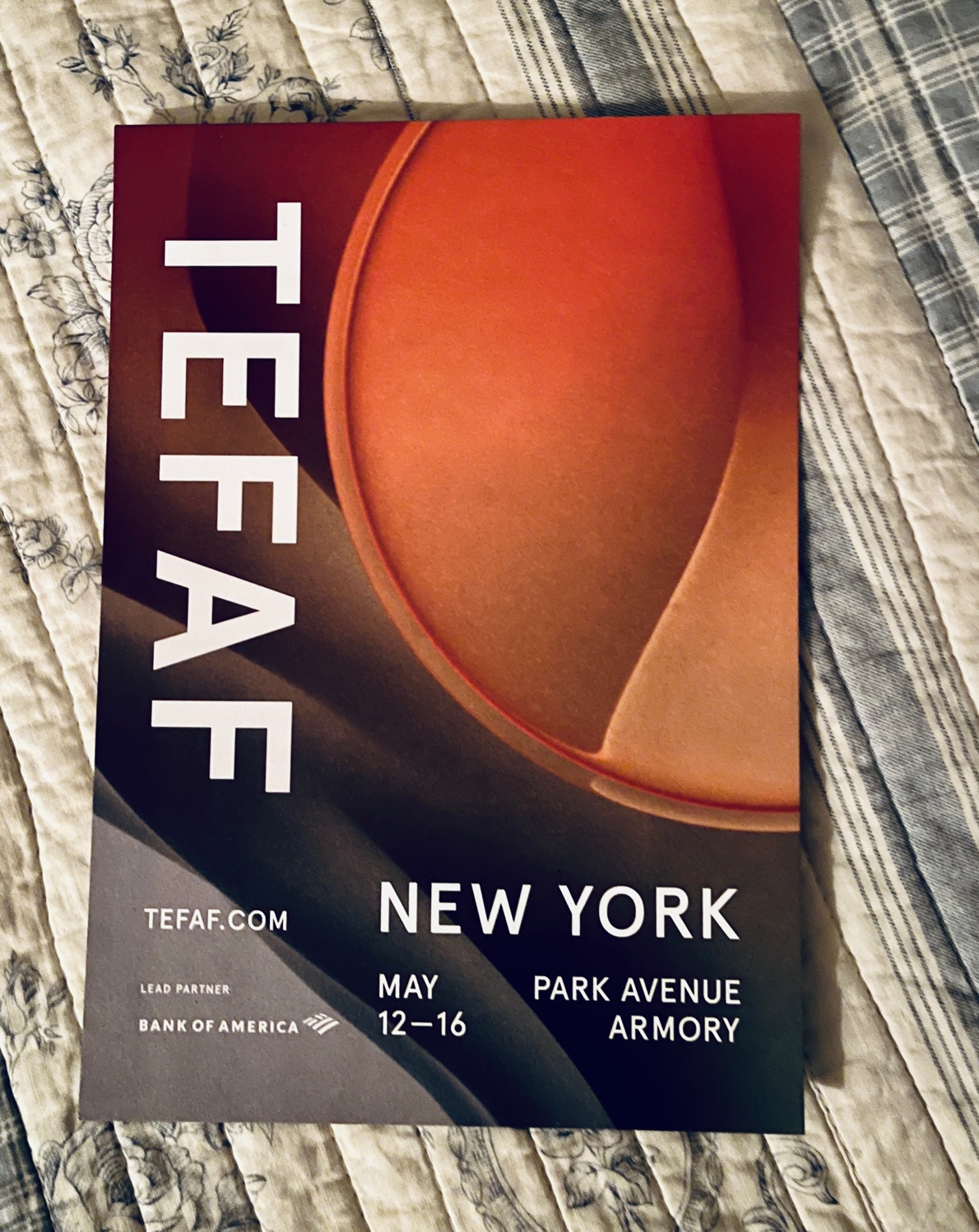 And here are some fun and interesting facts that you probably didn't know about TEFAF Maastricht:


The fair was founded in 1988 and has been held annually ever since. That's more than 30 years of art extravaganza!

Did you know that TEFAF Maastricht was the first art fair in the world to introduce a vetting system? All the artworks on display are thoroughly examined by a team of experts to ensure their authenticity and quality. So, you can rest assured that you're not buying a fake.

The fair is so prestigious that even the Dutch Royal Family is known to be regular visitors. So, you might happen to bump into King Willem-Alexander or Queen Máxima.

The fair has a strict dress code, which means you have to dress to impress. However, don't worry, that doesn't necessarily mean a tuxedo or evening gown. Just make sure you look presentable, and you're good to go.

One of the most unusual items ever sold at TEFAF Maastricht was a toilet! In 2001, a gold-plated toilet designed by Italian artist Maurizio Cattelan was sold for a whopping €1 million. Now, that's what you call a golden throne!

March 2022 armed Robbers broke into the TEFAF Maastricht, with sledgehammers and firearms. As visitors watched in awe, they smashed glass panels where decorative art was being stored and stole jewellry worth over 26 million. Although no one was hurt, festival goers had to be evacuated during the incident. It was the second time the TEFAF had been robbed. A diamond necklace worth approximately 1.2 million euros was stolen on the first day of the fair in March 2008.

All Photos: Bianca Demsa and Christoph Kopowski. First published here at www.graceandholmes.com