Evergreen Decor the Sustainable Way
There's no need for overpriced trendy (plastic) decorations, try your hand at these 3. amazing ideas which are both sustainable, stylish and easy to make!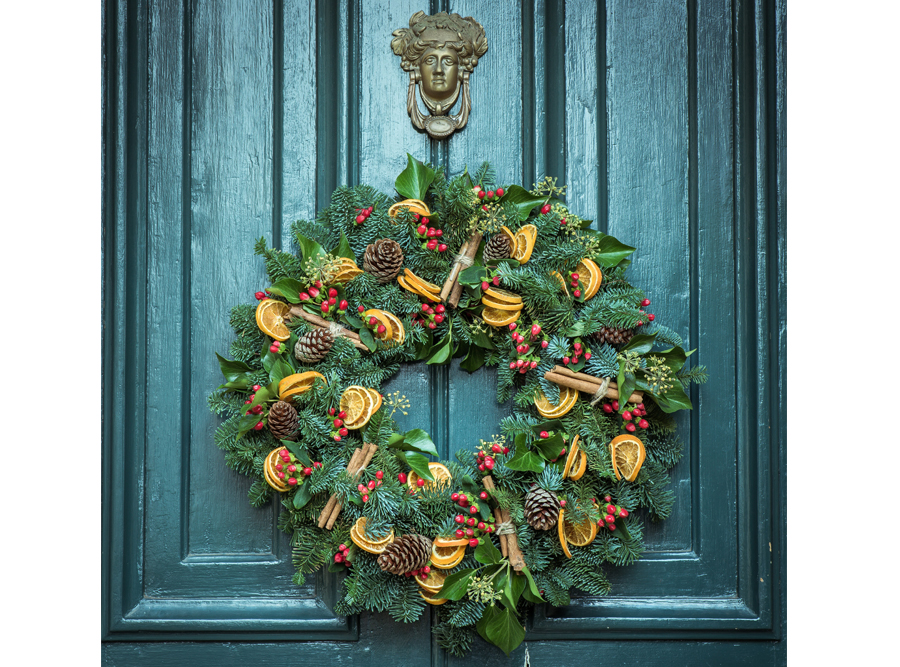 1.

Citrus Garland
Decorate your tree with this super simple but stylish garland using string, oranges, cloves and cinnamon. It will smell divine!
Garland using string, oranges, cloves and cinnamon.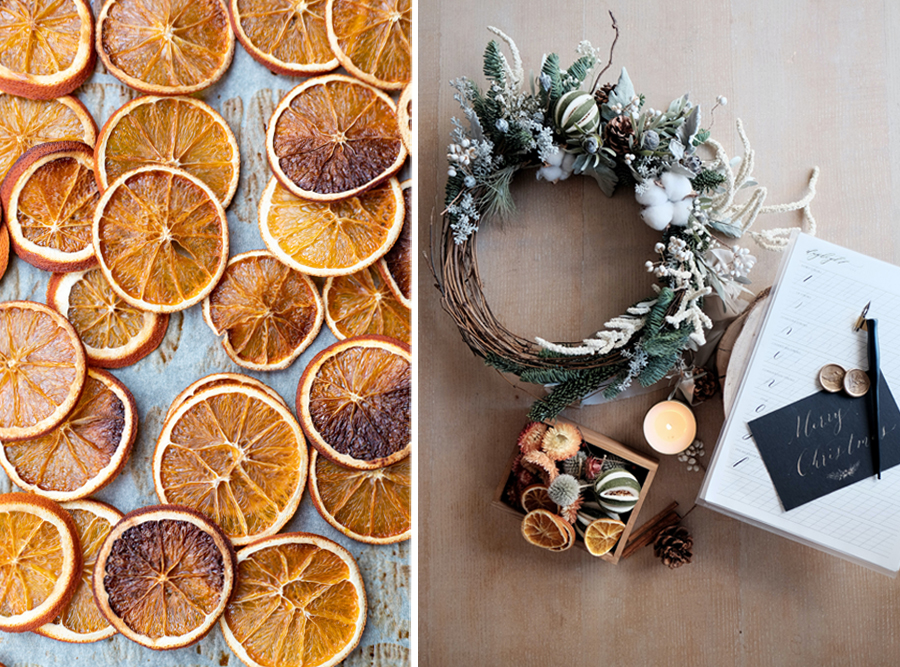 A citrus garland has the perfect combination of a heavenly fresh scent and sustainable beauty.
You Will Need:
Oranges (one orange will make one garland)

String

Cinnamon sticks

Cloves

Chopstick or skewer

Firstly slice your orange into pieces that are around half a centimetre thick. The thinner the slices, the quicker the drying time. Next, make a hole in the top of each slice with a chopstick or skewer. I found that the chopstick made a bigger hole which was easier to thread. Put on a wire rack. Put them in the oven at 60 degrees for up to five hours. Take them out once they are as dry as possible. Leave them on the wire rack overnight to continue to dry. Now to construct your garland and decorate. Push the cloves in a decorative pattern around the edges of the slices. Alternate decorated slices and undecorated. Thread the string through the first slice, in the hole you made earlier, and tie a knot. Then repeat this process leaving space between each one to change the length of the garland. Last step, tie in cinnamon sticks in between the slices and you're done.



2. Origami Stars

Origami stars are a creative and eco-friendly way to decorate your tree. You can make these pretty stars out of old newspaper, sheet music, battered up books or used wrapping paper.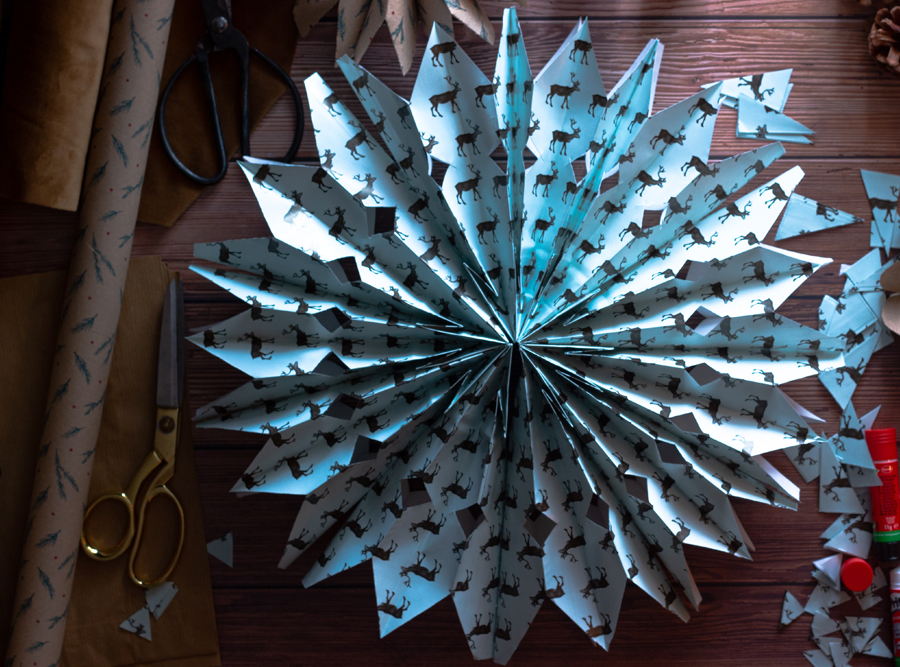 The art of Origami or paper-folding originated in Japan in the 17th Century and possibly even earlier.
The first step is to start collecting newspapers or any pieces of paper you find interesting. If you have a theme for your Christmas tree, you may want to choose or prepare your colours accordingly. Paper size doesn't matter as long as you can cut it down into a square. We recommend that you don't go too small or it becomes fiddly. Stick on some of your favourite tunes and start making with a cup of organic tea by your side. To make the stars themselves, I suggest looking at https://www.homemade-gifts-made-easy.com/5-pointed-origami-star.html. It's quick and simple to follow and have you making stars in seconds. Once you've made the stars, you can punch a hole into one of the points and tie a loop of ribbon or twine through it to hang on your tree. You can also add other citrus fruits if you like but I think oranges are the classic at Xmas time.
3. Home-Made Gingerbread Christmas Tree Decorations
These edible decorations are simple, effective and delicious! They also make the perfect little gift during the run up to Christmas. If you're looking to try an alternative spiced biscuit, why not try the German biscuit Lebkuchen. A tasty, soft biscuit that's just like gingerbread and found widely where I live!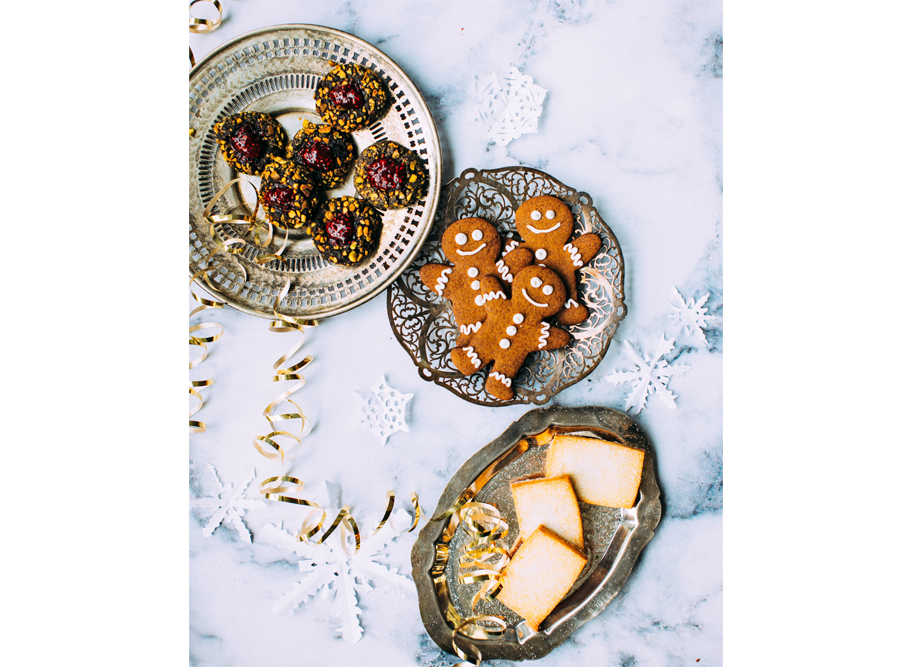 Gingerbread. Delicious to eat but also to decorate. And lasts for years.


Ingredients:
600g plain flour

1⁄2tsp salt

1⁄2tsp bicarbonate of soda

1tbsp ground ginger

1⁄2tsp ground cinnamon

1⁄2tsp ground nutmeg

200g unsalted butter, softened

200g soft light brown sugar

150g golden syrup

1 egg, plus 1 egg yolk (save the white for later)
To Decorate:
250g icing sugar

50g dark chocolate

You Will Need:
Biscuit cutters, varying sizes ans shapes if preferred

Baking trays lined with baking paper

Piping bag and icing nozzle (or icing pen)

Method:

Preheat the oven to 200C/Gas 6. Sift the flour, salt, bicarbonate of soda and spices into a large bowl. Melt the butter, sugar and golden syrup in a saucepan then allow to cool slightly. Combine with the flour. Beat in the egg until all mixed. Chill in the fridge for 30 mins. Remove from the fridge and allow to soften slightly. Roll out to the thickness of a £1 coin and cut out your shapes. Re-roll cookie dough leftovers together to use all of the dough. Place on lined baking trays. Use a skewer to make a hole in order to hang on tree. Bake in batches for 10-15 minutes until golden. Leave to cool slightly on the trays before transferring to a wire rack to cool completely.


To Decorate:

Using a stand or hand mixer on a slow setting, make the icing by placing the egg white in a bowl and gradually adding the icing sugar to build up a paste. Add a couple of tsps water if it's too thick. Spoon into an icing bag with a fine nozzle and draw on your pattern or designs onto half the biscuits. Melt the chocolate and spoon into a piping bag, decorate the rest of your gingerbread shapes. Thread with string to hang on to your tree.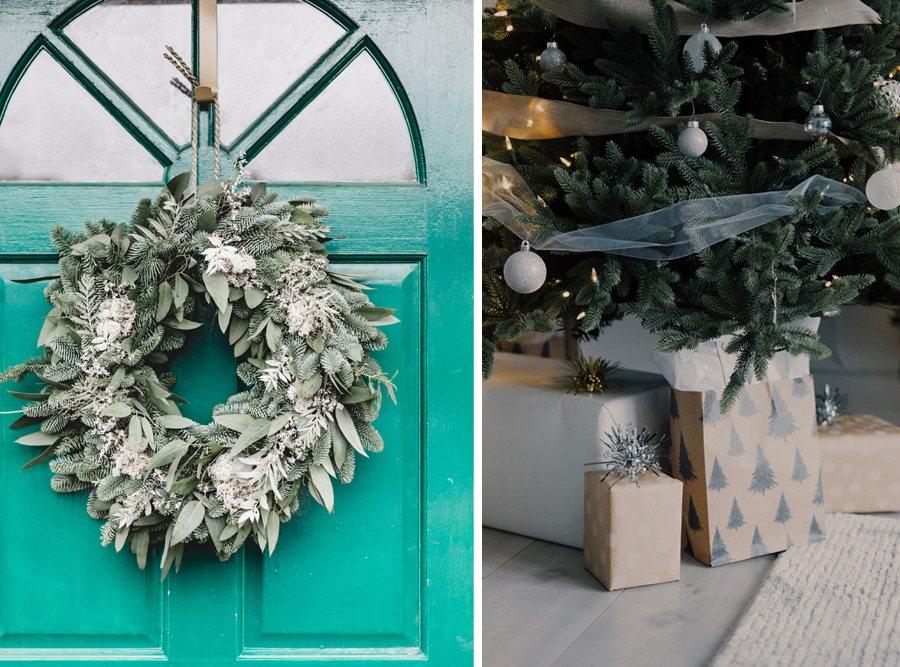 Not just a trend but a lifestyle. Evergreen wreaths and recycled paper for gifts. Even small changes mean a step closer to a greener and healthier world.


And voila! your sustainable and Evergreen Christmas Decorations are ready for the festive season this year and beyond!
Evergreen Decor the Sustainable Way, was first published here at www.graceandholmes.com
Photos: Unsplash