8 Simple Christmas Decoration Ideas
The Grace & Holmes Way
Are you getting into the Christmas spirit but are either not really into decorating or don't know how? Well, let me show you some simple ideas and tricks taken from my very own home this holiday season.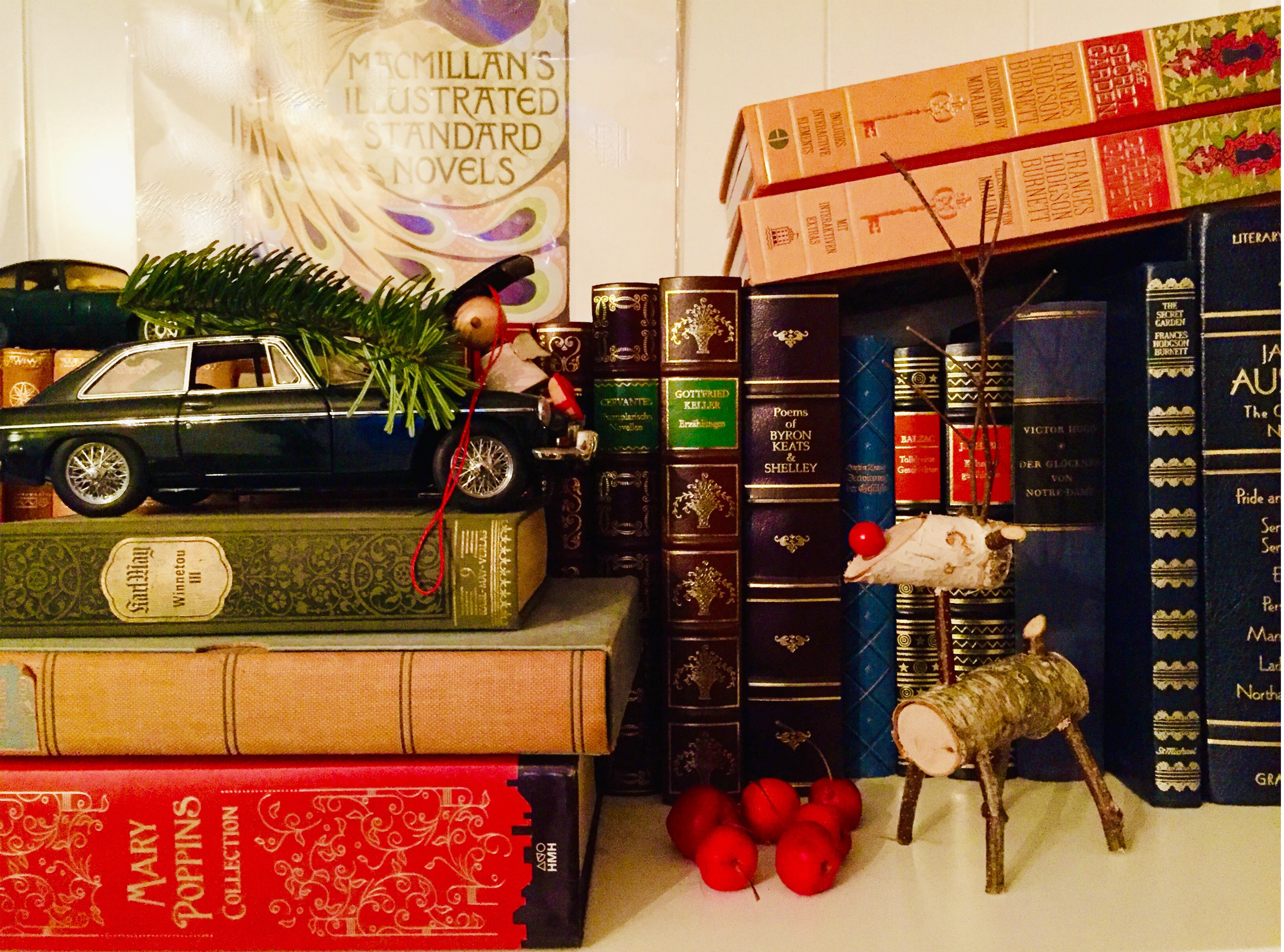 Don't stress youself with Christmas decorating this year. Here are a few simple tips.
1. Recycling
Starting in my Hallway I have two little jam jars which I have turned into little lanterns that hang from my mirror. All you need is some wire or string to fasten the jars and you can decorate them as you wish. Letter them with stencils or by hand in gold pen and hang them where they can twinkle all evening.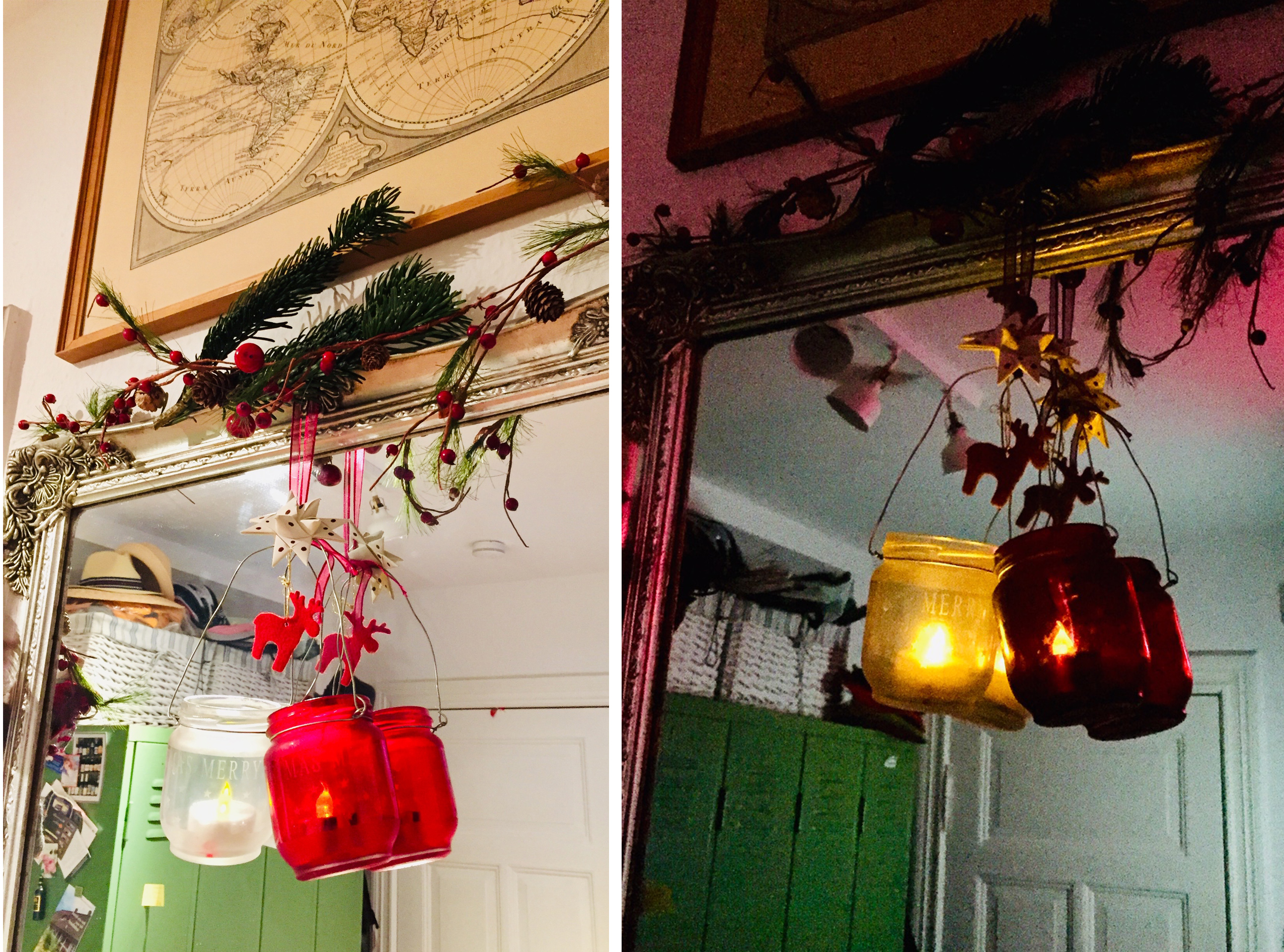 Don't throw away those jam jars!
2. Chandeliers on Chandeliers
Going through to the kitchen I found these tiny little chandelier ornaments in England last year. I have to admit, I originally wanted to give them away as a present but then kept some of them to hang on my antique chandeliers. They are so dainty and elegant and can be used as Christmas tree decorations or ornaments as you wish. From the kitchen you look onto my kitchen table with my wreath which I have had for years and although made of plastic, which I don't advise as environmentally friendly, but on the other hand, if you have something you have had for years and always use, then it's better than always buying new. These days you can also buy recyclable plastic, but if choosing, I would always prefer the real thing.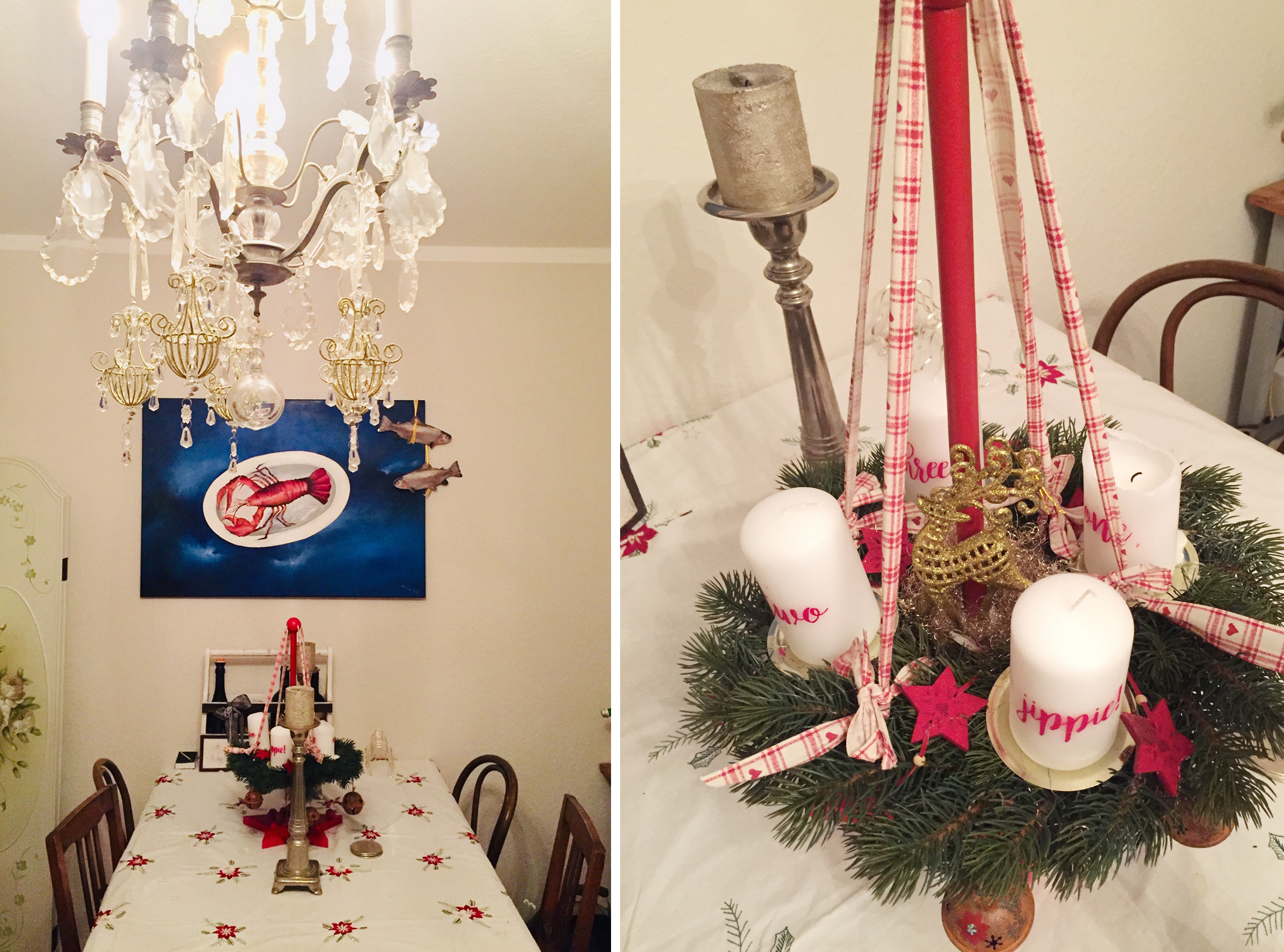 Chandeliers on chandeliers and my Advent wreath
3. Kitchen Crab
I saved this little crab bell from a life of doom after I found him all forlorn in the dump. Now he has pride of place and is getting into the Christmas mood himself with the greenery. Never forget the humor in your decoration and always leave people going away with a smile. Here we can see one of 6 (!) advent calendars I have. Two are gifts, two are recycled every year like this kitchen one and one is a very special one, which I will get to a little later. The bird calendar I found two years ago and loved its vintage look. You change the date by turning the cubes and I think it was from Villeroy and Boch. But what mainly wanted to show you was the idea of taking a tray and simply filling it with glass baubles, acorns or cones sprayed gold and any Christmassy bits and bobs you might have. Topped off with fairy or tea lights.

Vintage bird Advent calendar, baubles galore and and a not so crabby crab

4. Rudolph the Red-Nosed Twiggy Reindeer
Another fun way to use any twigs that you might find is to create a Rudolph twig reindeer. Simply select the right sizes for the body, legs, and antlers and carefully drill some holes with a screwdriver or similar and glue on. You can be as creative as you like and use a holly berry as a nose or find a tiny glass or wool bauble for example for the red nose. And if that is all too much trouble, just let me know and I can send you your own personal G&H Rudolph, which my uncle hand-makes in Austria.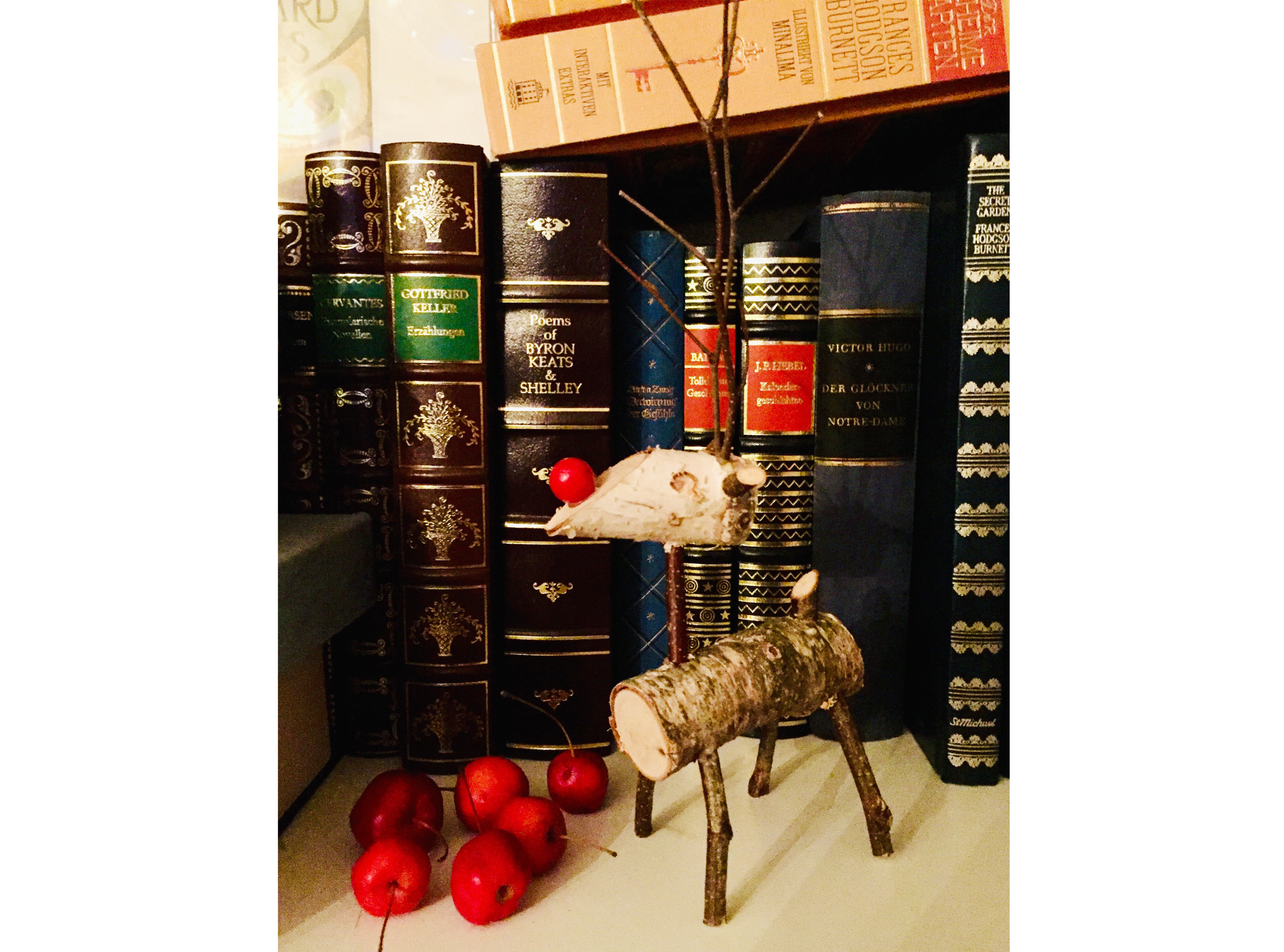 There he is the cheeky Rudolph!
5. Card Collections
In the UK it is the tradition to send cards. My mother still received enough to decorate her whole living room and although it is not a tradition in Germany, I have gotten into the habit of sending handmade cards. Last year it was paper snowflakes, then baubles made out of buttons and then saved wallpaper as Christmas tree motives. And If I recieve cards that I fall in love with, I save them and display them on my bookshelves. Many of them are simply too beautiful to throw away. My mother always uses the old cards as gift tags for the next Christmas for example. And, don't forget to use your glass domes every season to display your favourite ornaments or lights. Even a simple electric tea light can look amazing in a glass dome.

A mini tree wrapped in fairy lights and saved vintage Christmas cards add glamour to any room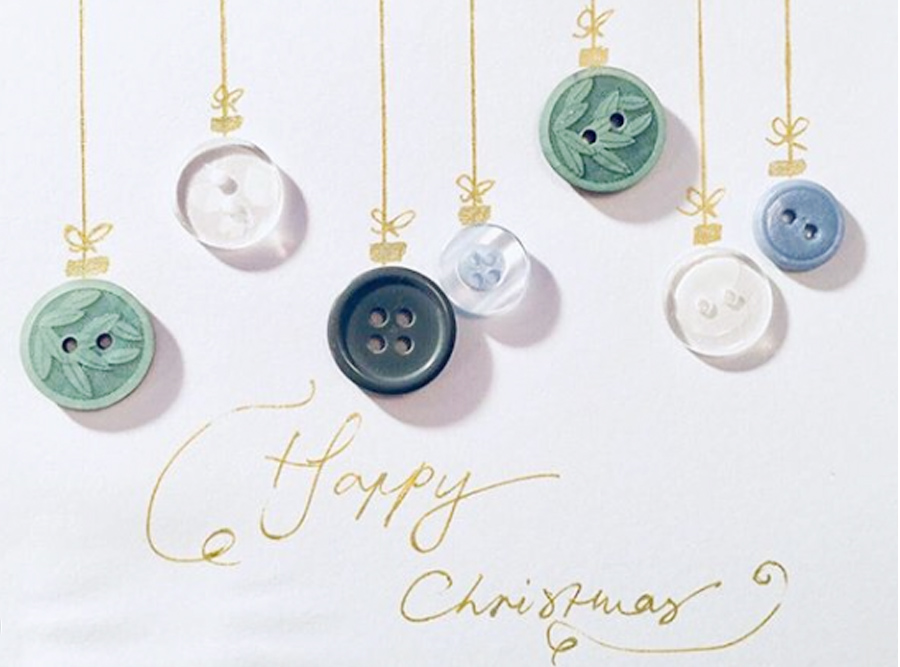 Christmas bauble buttons and wallpaper samples are some of many things you can recycle to make beautiful handmade Christmas cards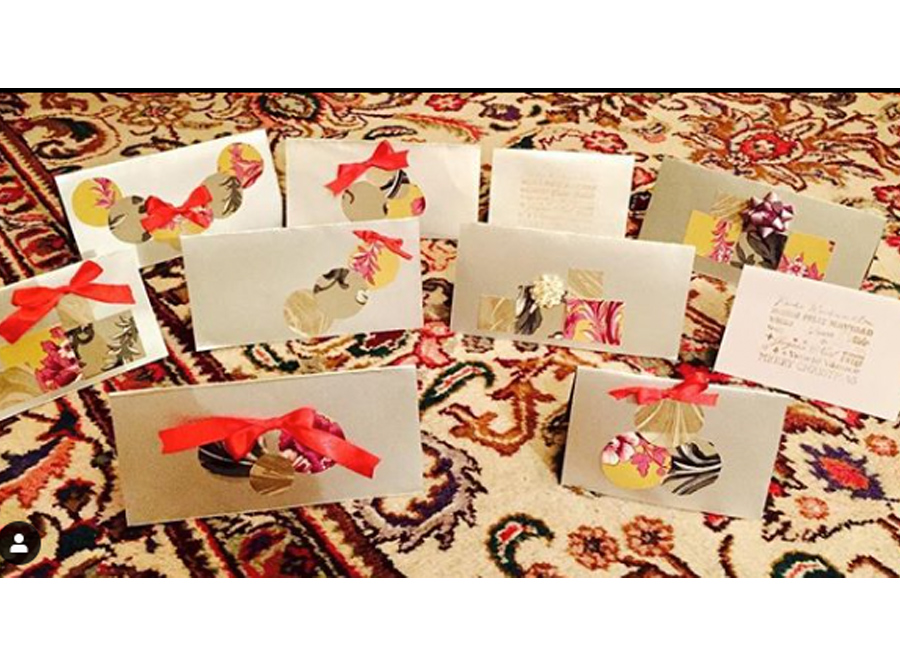 6. Staircase Garland
I am lucky enough to have a staircase in my home and it gives an immediate homely feel. So I use any opportunity to decorate it, especially as I hate the varnish on it and wrap a fir tree garland with fairy lights and add classical wooden decorations which were a lucky find at the local Oxfam.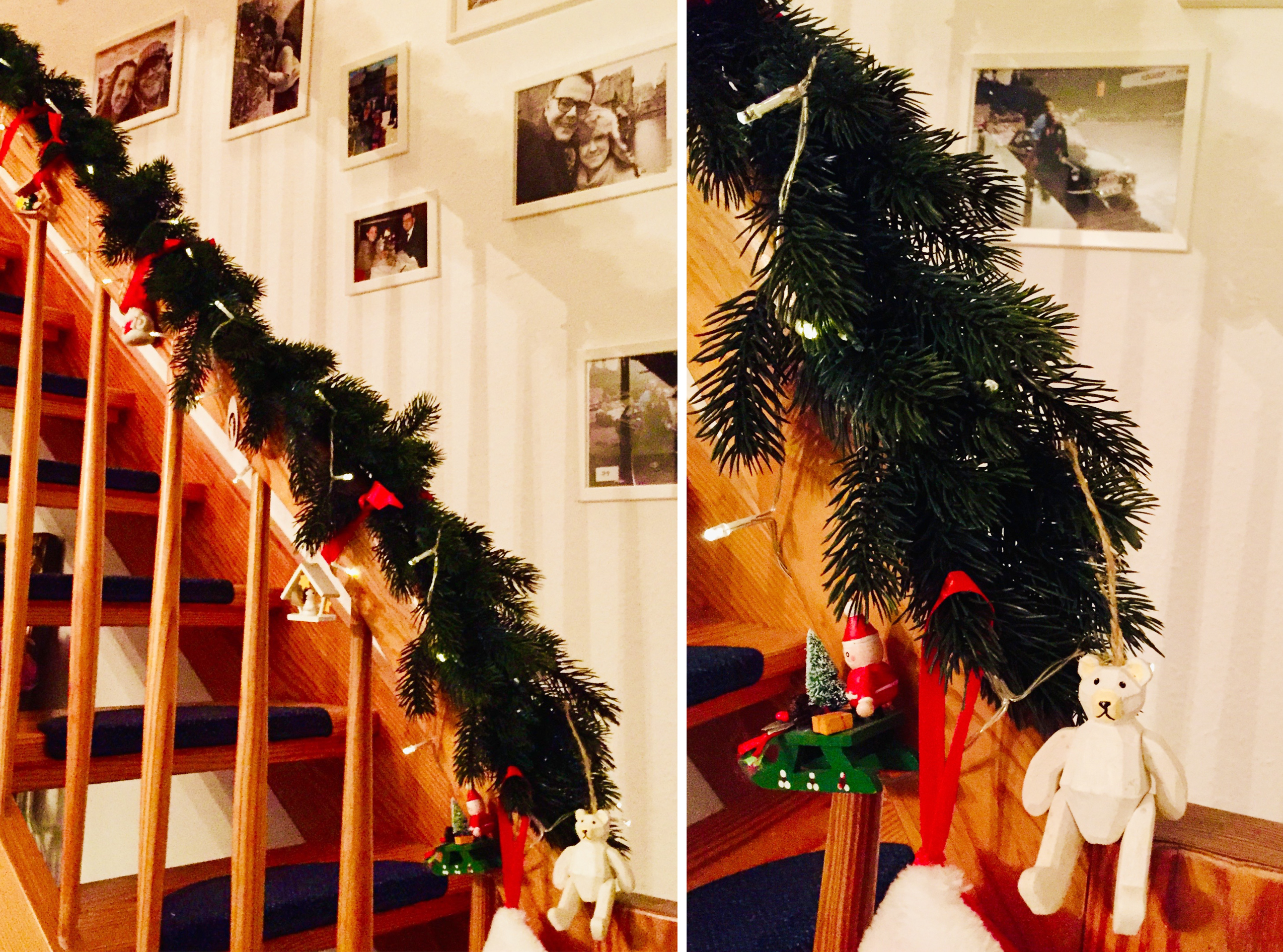 Classical staircase beauties

7. Glass Vase as Display Feature
I have one huge glass vase and it comes out often during the holiday seasons. I vary it every year but often I fill it with baubles or cones, then collect some sprigs of pine, fir tree or amaryllis flowers and some lights in there. It's a simple idea and very effective. This year, I had a pale pink, silver and gold theme and topped my vase with a cute Christmas bird I was presented with last year.
8. Leave the Best to Last

My highlight this year has to be my Harry Potter calendar! I was so excited when I saw it and being a huge lego and Harry Potter fan, it was the perfect combination. We are only on December 6th, but I am already truly happy with the little train and Christmas trees which are slowly making up our Hogwarts scene. My advice, never go overboard with the present buying this Christmas, but if there is that very special something that you cannot get out of your head, then go right ahead. You deserve it.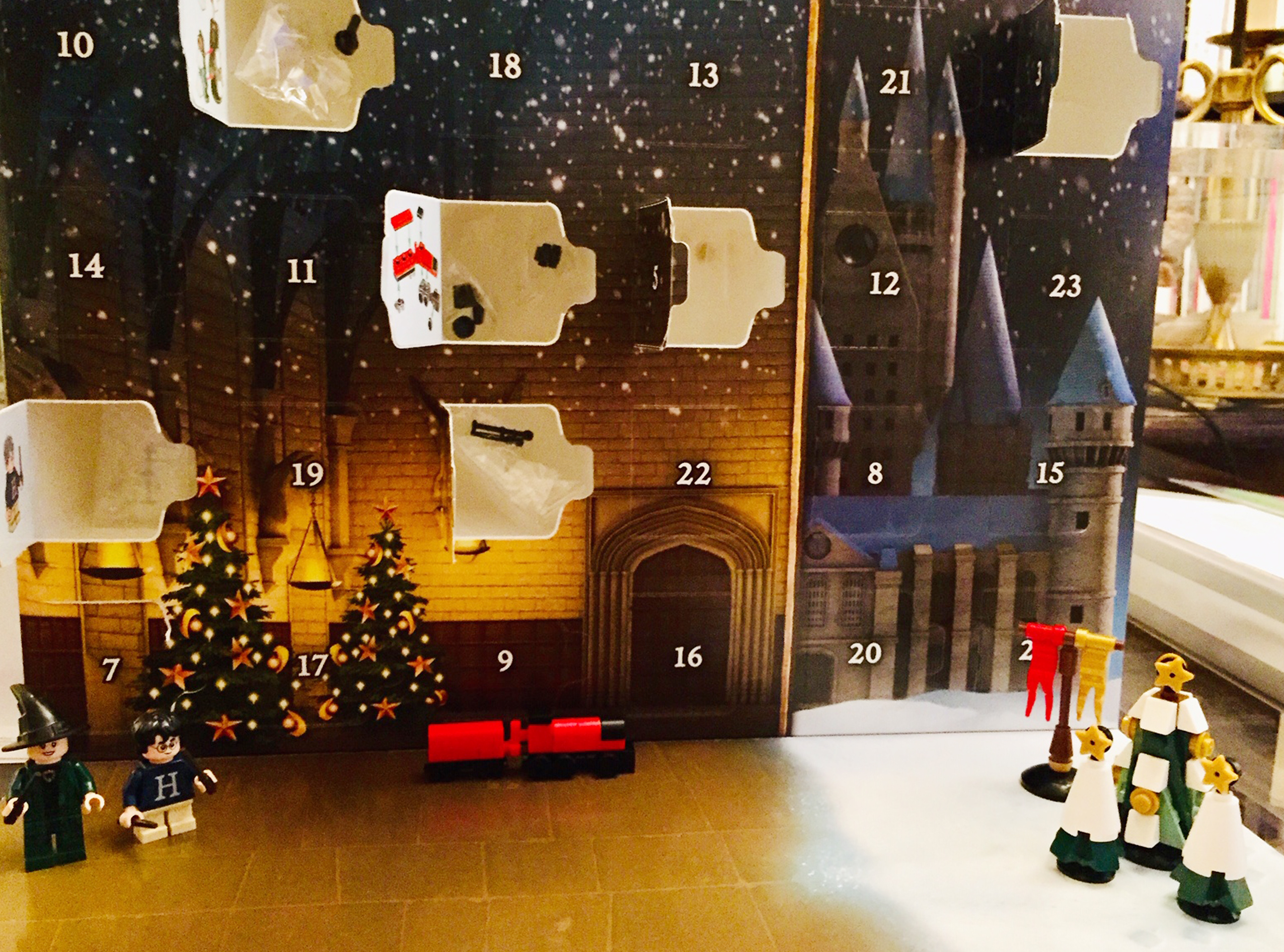 The Harry Potter Advent Calendar from Lego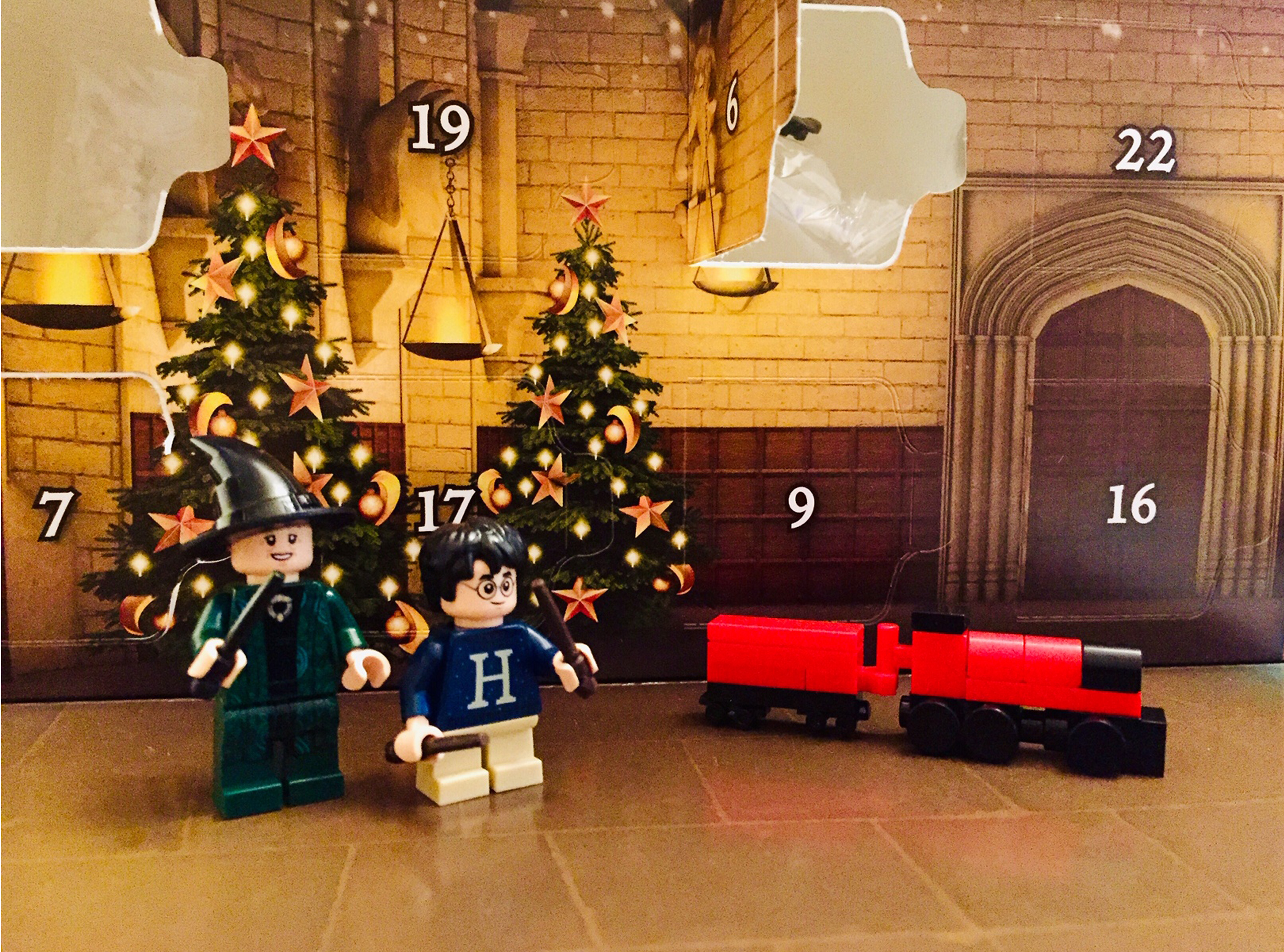 Happy Saint Nicholas Day everyone and have a wonderful Advent 2019.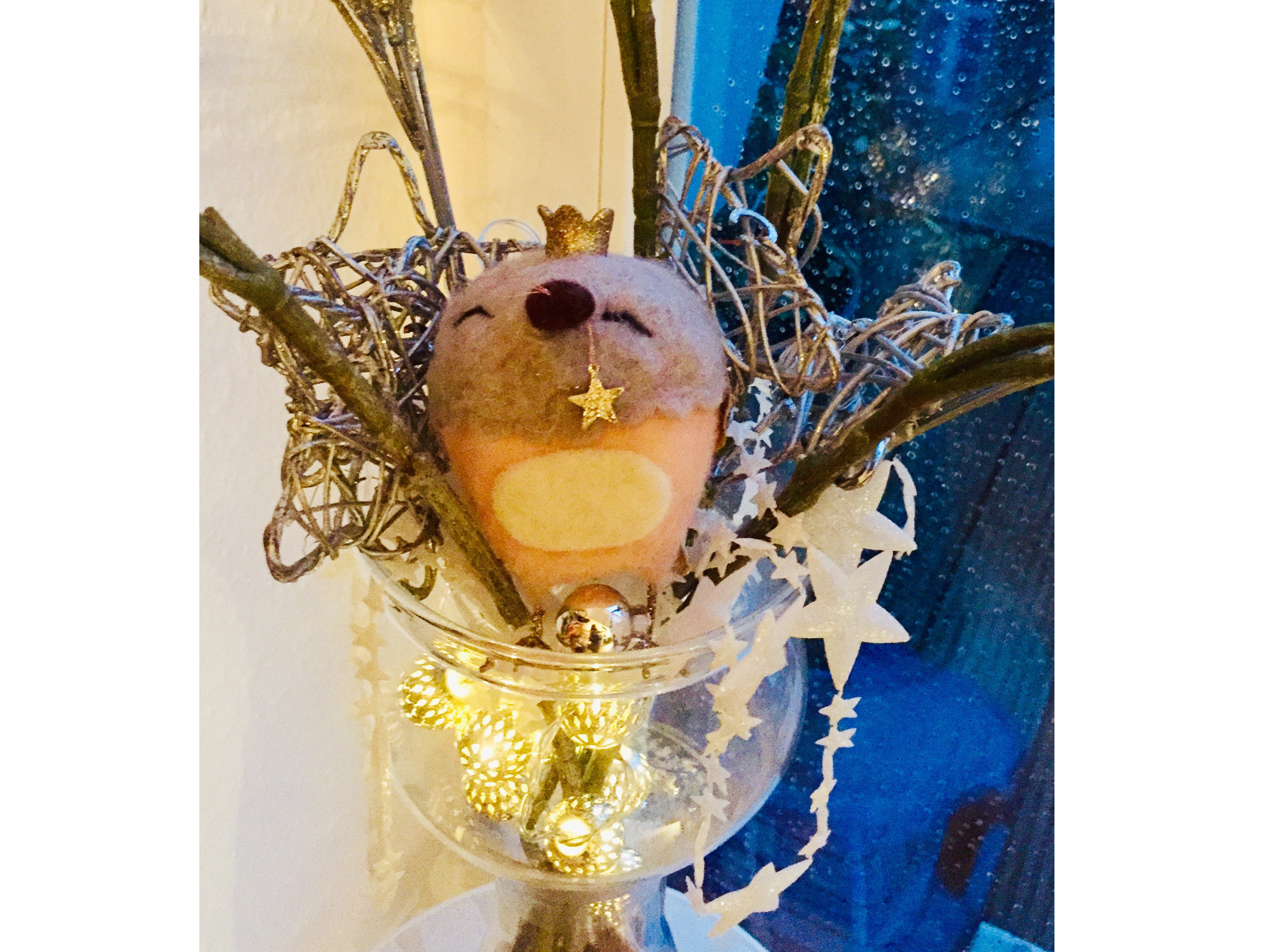 8 Simple Christmas Decoration Ideas was first published here at www.graceandholmes.com

Photos: Bianca Demsa