70s Disco meets Modern twist in Altona Hamburg
Quinessentially classic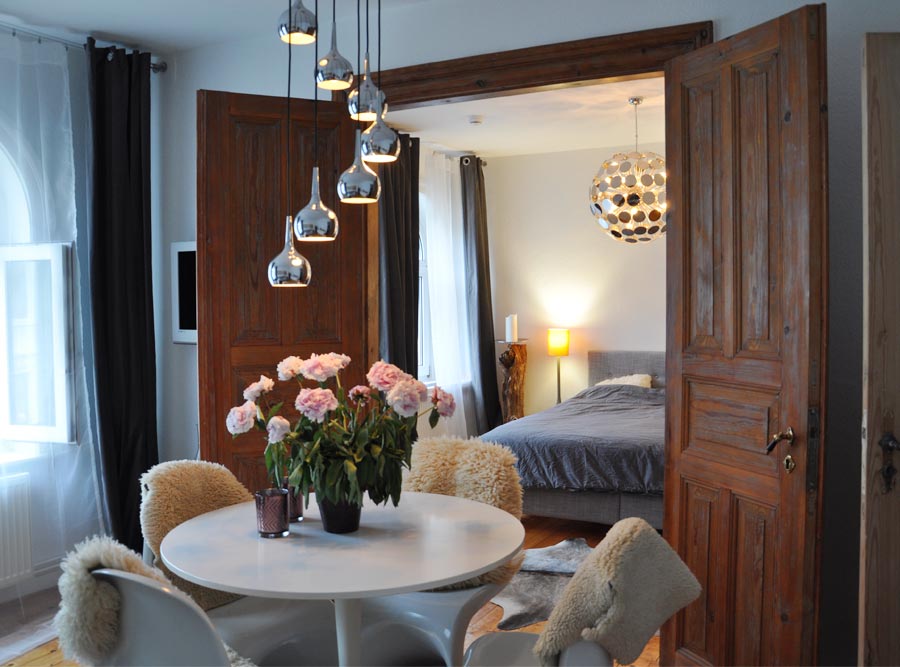 Miid-century meets modern cosiness
My friend Sally is a lover of all things quinessentially classic. And that includes design classics. She wanted her new home to be mix of modern, vintage but also her favourite, mid-century design. We decided on neutral walls and textiles and decided to go all out on 60s and 70s glam.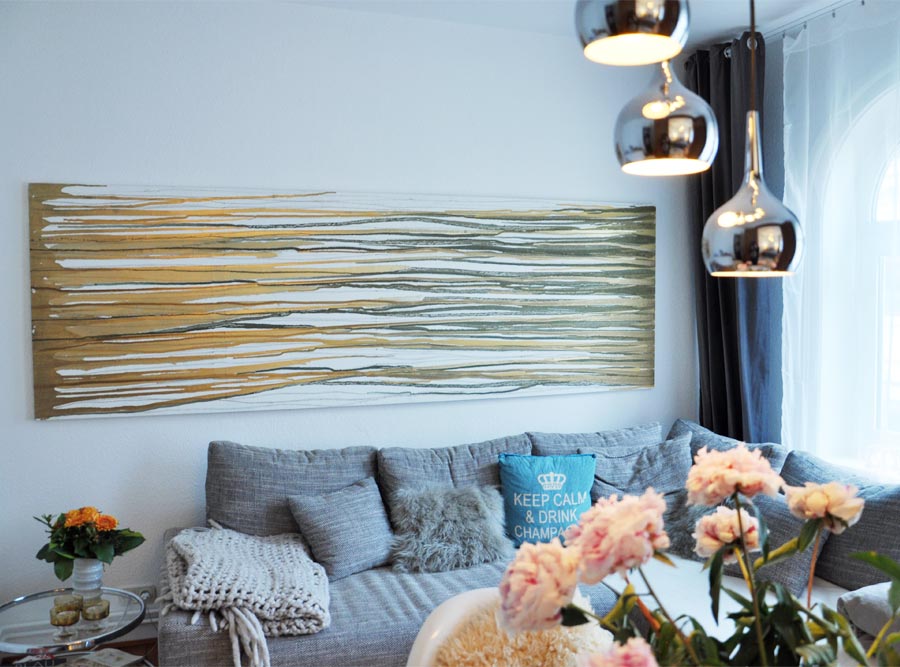 Sally's lounge with her own artwork, a modern textile sofa in grey and an Eileen Gray side table
We gave her lounge an elegant feel with grey velvet curtains hung on a simple wire across the whole of the arched windows. High enough to give the room a feel of height despite the lower ceilings. Our base furniture was then a contemporary sofa in a lovely and durable textured cotton wool mix.

A decorative lamp adds a lovely fun accent and a classic cascade lamp definitive glamour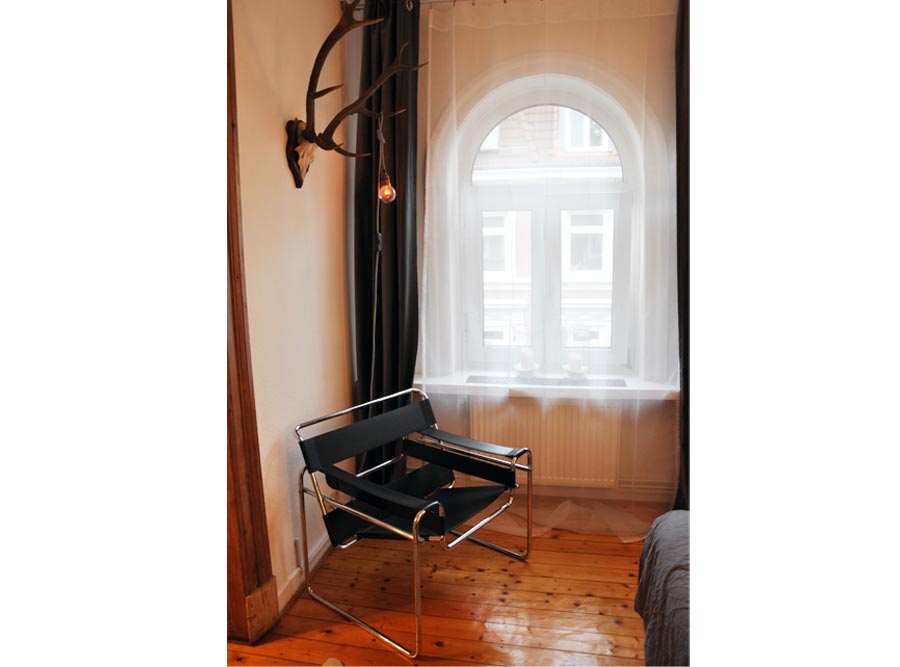 Another design classic, the Wassily chair
We then opened up the lounge area, which lead directly to the master bedroom by taking advantage of another classic, the white tulip dining table from Eero Saarinen with four Panton chairs from Vitra (ca. 1960). Over the table we decided on a some space age chrome globe cascade lights ca. 1970 to complete the look.
In the bedroom we concentrated on a calm and relaxing atmosphere overall. Simple and heavyweight curtains and a modern king-sized bed. But that didn't mean there wasn't room for a touch of humour. While we opted for plenty of little islands of light in the darker room, we also added another disco glam light over the bed as well as two side lights. On the wall to the lounge, a decoration light hanging from a pair of antlers (inherited from her parents) added an element of fun to the somewhat 'minimalist' structure!
The icing on the cake? A Wassily chair by Marcel Breuer (ca. 1925) where you could sit and admire the whole ensemble.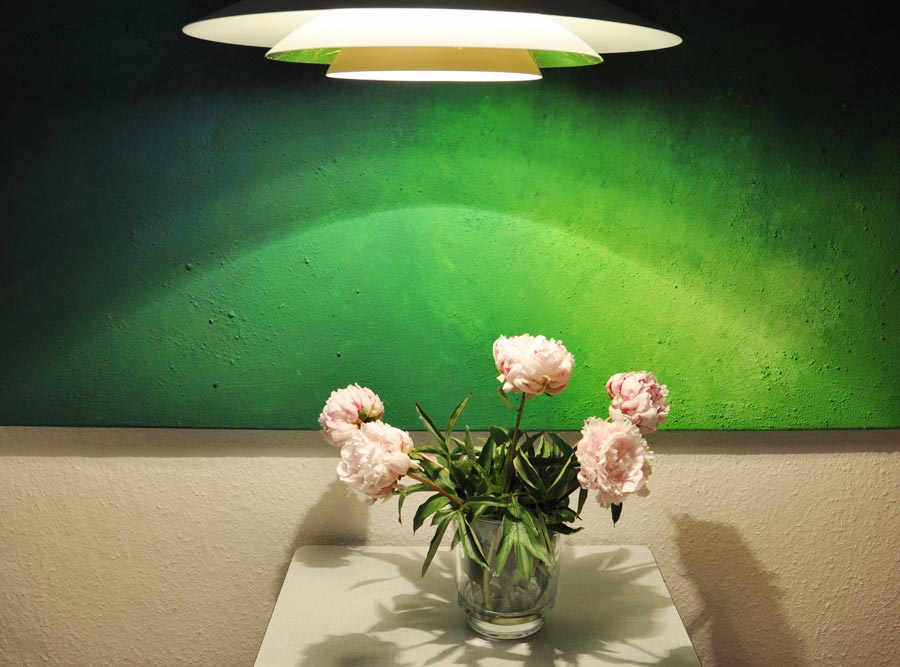 Poul Henningsen PH5 ceiling light meets kitchen peonies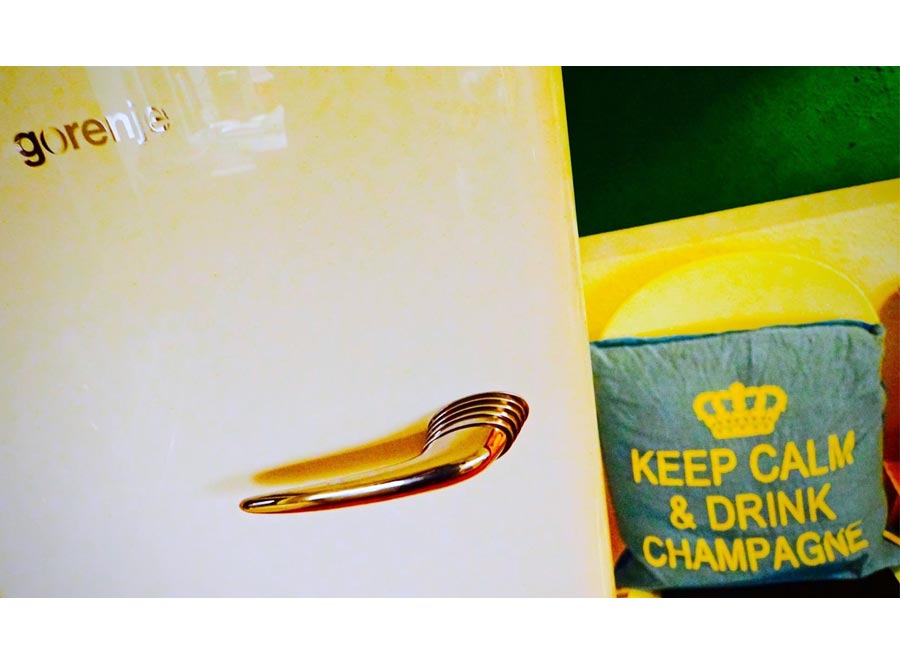 Who doesn't dream about a 50s vintage fridge?
And on to the kitchen. Sally's dream, a retro fridge. We found a bargain Gorenje in a neutral beige which added that bit of 50s vintage to the small kitchen. But small as it may have been, I think every kichen should have some form of workspace or table. We added a small table to the works with two simple Butterfly chairs in Ercol style and lit up by a classic Poul Henningsen PH5 ceiling light. As the pictures show the gold elements in the light were brought to life by Sallys's green artwork hanging on the wall behind the table. To finish off, we added textured cushions, flowers, candles and oodles of love.
So what do you think Grace & Holmers? Please feel free to give us your feedback in the comments below!
Potos: Bianca Demsa and Gerald Heinemann